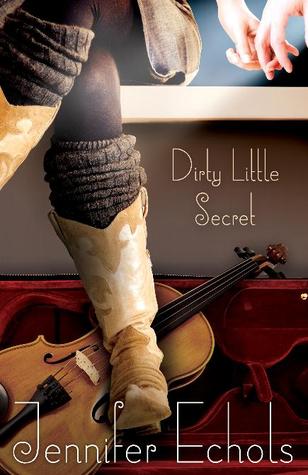 Book: Dirty Little Secret by Jennifer Echols, MTV Books, On Sale July 16, 2013
Book Info: YA Contemporary Romance, HC 288 pg, received for review from the publisher

Rating:  4 / 5 Stars
More Info:  Goodreads | IndieBound | Amazon
This book is so cute, y'all! Jennifer Echols is back with a new summer contemporary romance, and this one has a country western flavor. I'm a big fan of the TV series Nashville, as well as music-themed YA, so I was excited to see what Echols would do with a country music theme. In the book, the main character compares her relationship woes to a country song and that's a pretty fair description of Dirty Little Secret. There's lots of drama, music, and heart in this one. My favorite Echols book is still Such a Rush, but all the same Dirty Little Secret put a smile on my face.
In Dirty Little Secret, Bailey is a talented fiddle player, and one half of a sister duo. That pairing goes up in smoke when Bailey's sister Julie gets her own record deal, and that's seemingly it for Bailey's career. She goes to live with her grandfather in Nashville, and plays fiddle at the mall in tribute bands featuring Elvis, Dolly Parton, and Johnny Cash. That's where she meets Sam, and dares to hope for another chance to make it in the country music circuit.
The music scenes and Nashville setting made the book a standout for me. Bailey lives and breathes music and puts her all into writing songs, performing on stage, and even working at the mall in her Dolly Parton band getup. Bailey has perfect pitch and I thought it was so interesting how it was a blessing but a curse for her. It really bothers her when musicians are off-key!
Sam the love interest is quite the charmer, even though you're never really sure if you can trust him. He's so ambitious I couldn't tell if his motives were true.
From the ARC:
He was the devil in disguise, the handsome but low-down, no-good sneaky guy from a thousand country songstresses' revenge plots.
If you are familiar with the show Nashville, Sam is kind of a cross between Avery and Gunnar. His scenes with Bailey crackle with chemistry, and Echols does write fantastic kissing scenes for them.
The drama with Bailey's parents, sister, and the record label, was a little far-fetched for me. I couldn't understand why Bailey couldn't do her own thing with music, and why her parents couldn't support both of the sisters in their musical aspirations.
I'd pick up Dirty Little Secret for the great Nashville music vibe and the romance. There are also some great colorful characters, and dramatic tension to keep you turning pages. It left me hankering for more country music themed books.
Related Posts