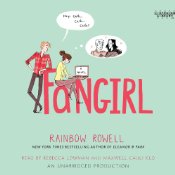 Book: Fangirl by Rainbow Rowell, Listening Library, September 10, 2013
Book Info: YA/NA Contemporary, purchased Audiobook and hardcover. Running time: 12 hrs, 48 mins. Read by: Rebecca Lowman, Maxwell Caulfield. Also available in hardcover, 438 pages from St. Martin's Griffin.

Rating: 5 / 5 Stars
More Info: Goodreads | Audible | Amazon
Rainbow Rowell's latest Fangirl is now out in the world, and it's definitely something to fangirl over.  I listened to the audiobook for the first "read-through" and have a print copy whenever I'm ready to revisit. Fangirl is about a girl named Cath who is just starting college. She leads a double life as a superstar fanfic author and now has to fit her writing into college life, and find her own voice as a writer and individual. I think all three of Rowell's books have crossover appeal, and Fangirl deftly walks the line between YA and NA/Adult.  She writes these great quirky, creative misfit types and I think Fangirl might be my favorite of the three Nebraska-set books.
Cath(er) is a twin- her sister is Wren, and they grew up with their dad in Omaha, Nebraska. Their mom took off on (the) September 11th and the trio was left to pick up the pieces. Cath retreated inward, preferring to spend time on the Simon Snow (Harry Potter-esque character) fandom and fic writing. Wren is more outgoing and vivacious and is ready to take college by storm, unwilling to take on the baggage of Cath as a roommate. Cath feels abandoned and overwhelmed, and her brash new roommate Reagan isn't very welcoming. Plus she's worried about her dad's eccentric behavior at home.
Cath is a worrier, has social anxiety, and hordes protein bars so she doesn't have to eat in the dining hall. She feels most comfortable in the world of her fic, a world where she's quite successful. Cath is such a gifted writer she lands a spot in the junior-level Intro to Fiction writing, and hear she deals with a sketchy words-stealing writing partner, and a professor that frowns on Cath's fic writing.
Levi is Reagan's ex and he spends a lot of time in the girls' room studying. He's always around and slowly Cath realizes it's not only to see Reagan. He is super sweet, supportive, and endearing – the perfect guy for Cath to fall for. He has a reading disability so likes to study by listening to class recordings, and loves when Cath reads her fanfic aloud to him. He is just too cute for words.
There are a lot of balls in the air with Fangirl- with the twin relationship, school, absent mom, troubled dad, and the merits of fanfic. All of these issues weigh on Cath's mind, and make her first year of college a challenge and enlightening. I found Cath relatable, and I've definitely fangirled over books and TV series. It's hard to step out of your comfort zone and move away from home, and I felt Cath's struggle to balance real life and the characters in her fanfic.
Speaking of the fanfic, the book includes excerpts from Simon Snow, and Cath's own fic so you're following a story in the story in Fangirl. The transitions are easy to follow and let you see where Cath's head is. The fandom is shown through the eyes of a writer, and show Cath worrying about getting her story finished before the last Simon Snow book is released, and keeping up with reader comments. It seems like Rowell knows a lot about fanfic. I attended a fanfic panel at Comic-Con over the summer and I wish she was on the panel – it seems like a no brainer to me.
I listened to the audiobook, read by Rebecca Lowman (Eleanor & Park narrator) and Maxwell Caulfield (from Grease 2!) Caulfield only reads the Simon Snow and fanfic passages, transporting the reader to Cath's other world. I liked Lowman's narration in E&P so it was an easy decision to pick up this audiobook. She's great with voices, and I liked her sunny, gregarious voice for Levi, and her jaded, blunt voice for Reagan. Cath's worries and insecurities come to life with Lowman's delivery. The time flew by while I was listening to this audiobook. I have the book too since I love the cover and I like to experience my favorites in print and audio, but I don't think you could go wrong with either.
There were a lot of lines I loved in this book, but I was listening to the audiobook so I didn't really keep track of them. I'm eager to experience the book in print so I can take note of my favorites. I think Fangirl definitely has crossover appeal for readers of YA/NA and Contemporary Fiction, and you may love it even more if you're a closeted (or not) fangirl yourself.
Rainbow Rowell always does character playlists for her books, and here's Cath's (she's fond of Kanye West dance parties) for your listening pleasure:
[spotify id="spotify:user:rainbowrowell:playlist:0M2UYQOAJj4kgMhbVEt0Jx" width="300″ height="380″ /]
Related Posts