Book Title: Anna and the French Kiss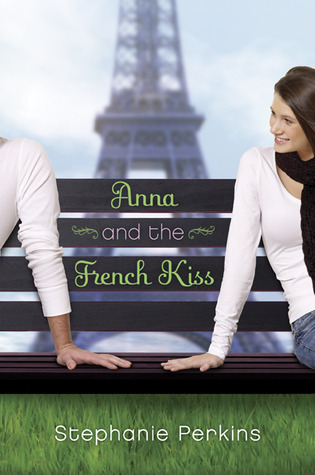 Author: Stephanie Perkins
Publisher: Dutton
Original publication date: December 2 2010
Genre: Young Adult
Format/pages: Hardcover, 372 Pages
Format read: Kindle edition
Date read: December 17 2010
Rating: 5 / 5 Stars
Summary from the the author's website:
Anna was looking forward to her senior year in Atlanta, where she has a great job, a loyal best friend, and a crush on the verge of becoming more. So she's less than thrilled about being shipped off to boarding school in Paris—until she meets Étienne St. Clair. Smart, charming, beautiful, Étienne has it all . . . including a serious girlfriend.

But in the City of Light, wishes have a way of coming true. Will a year of romantic near-misses end with their long-awaited French kiss? Stephanie Perkins keeps the romantic tension crackling and the attraction high in a debut guaranteed to make toes tingle and hearts melt.
My thoughts:
What a charming debut! I fell in love with this book, and am already reading it a second time. It is romantic and heart warming and sharply written with a great cast of characters. The romantic city of Paris provides the perfect backdrop to this story and will leave you longing to visit. Anna is definitely one of my favorite books of 2010, and very deserving of the hype. It is hard to believe this is Stephanie Perkins debut novel. Anna deserves a spot on the top of holiday wish lists.
Anna is a high school student from Atlanta, Georgia who is sent to study at an American school in Paris for her senior year. She loves to write film reviews and hopes to one day be a famous film critic. She unfortunately does not speak French and leaves behind her best friend and her crush in Atlanta. Once in Paris, she is scared to order food in the cafeteria and is embarrassed to be taking beginner's French. Anna is taken under the wing of a group of friends including the British/American Etienne St. Clair.
As the love interest, Etienne is charming and sweet and perfect for Anna, except for the fact that he has a serious girlfriend. And Anna is still interested in the boy back home. Anna's friendship with Etienne is well developed and believable, and they have great chemistry. He shows her around Paris, and accompanies her to see classic American films at the revival houses in Paris.
In addition to the love story, Anna also explores friendship drama, such as when two friends fall for the same guy. Family relationships and school bullies are some of the other stories found in Anna. The city of Paris is another central character to the story and visiting the landmarks adds to its charm.
Anna and the French Kiss is a gem and recommended for fans of YA Romance, or anyone looking for a well-written feel good novel. Anna will have you beaming from ear to ear. Enjoy it curled up with a cup of chocolat chaud!
There will be two companion books to Anna and the French Kiss. Lola and the Boy Next Door is due out September 29 2011 and will be followed by Isla and the Happily Ever After in the Fall of 2012.
For more information:
Amazon / Goodreads / Stephanie Perkins blog
Related Posts