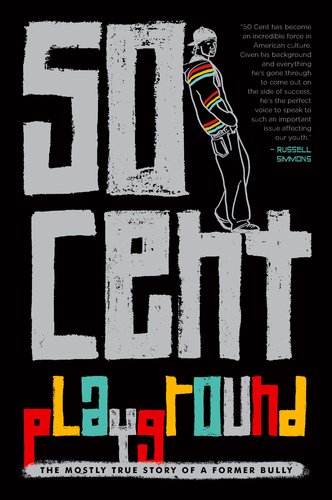 Audiobook: Playground by Curtis "50 Cent" Jackson, Penguin Audio, November 1, 2011

Genre: Young Adult Contemporary
Format: Audiobook received for review: 4 hours, 17 minutes, read by Dwayne Clark. Also available in hardcover, 272 pages.
Rating: 3.5/5 Stars
More Reviews: Goodreads
Buy the Audiobook: Audible
Read an Excerpt: EW's Shelf Life
Playground is Curtis "50 Cent" Jackson's debut young adult novel about teen bullying. He explores this topical issue by sharing some of his own experiences in this fictionalized story. He hopes to reach out to kids to show how bullies are created and that there is hope to overcome it.  As a parent, I'm very interested in this topic and was curious to read a story written from the bully's perspective as a fresh change of pace.
The story is narrated by thirteen-year-old Butterball, nicknamed because of his weight, who lives with his over-worked mother post-split in a Long Island suburb. His father remains in the city where he seems to have more time for his girlfriends than for him.  Butterball gets in trouble at school for hitting a kid, his only friend, with D batteries wrapped inside a sock. After that incident, he must attend weekly sessions with a psychologist to get to the bottom of his behavioral issues.  The details of what set Butterball off are revealed through the weekly sessions with Liz.
Butterball is a sympathetic character that I think many teens will relate to. After his parent's split he has to start again in a new neighborhood and school where he is the outsider. The only time he does get respect and positive attention from his peers is when he attacks a fellow student. Even his father seems to like the new bullying ways of his son. The dialogue is realistic and edgy with an uncondescending tone that gets the message across.  The language is explicit at times but appropriate to the story and since it is not toned down it is more relatable to the intended audience.
There are many issues presented in the book that go hand in hand with the bullying behavior such as divorce, consumerism, diet and more. I thought these issues were handled with sensitivity and not in a preachy way. It's interesting to see the circumstances that lead to Butterball's acting out and it made me more sympathetic to those who exhibit the same behavior.  The therapy session storytelling device works well and gives a healing quality to the story.
Dwayne Clark effectively handles the narration and kept the audiobook entertaining throughout.  The reading is very lively and the character voices are distinct and believable. At only four hours long, the audiobook is the perfect length for the story and the time flies by.
With bullying now such an epidemic, I appreciate what 50 Cent set out to do with this story.  With understanding and respect for the target audience, the thoughtful story has a hopeful tone that may inspire others like Butterball. Recommended for middle schooler's, parents and educators looking for insight into the mind of a bully.
Related articles
Related Posts