Today I'm very pleased to welcome the lovely and talented MaryJanice Davidson to the blog! MaryJanice is the New York Times bestselling author of the Undead series, and today she is here to discuss her thoughts on writing series vs. stand-alone books.
I always wonder how authors decide how long a series should last and how to balance writing several series at once. It also seems difficult to write for yourself vs. the readers. Who better to tackle these questions than someone who has written over 30 books and 6 series? Take it away, MaryJanice!
SERIES VS. STAND-ALONE BOOKS
or
WHAT WERE YOU THINKING, ASSHAT?
I've been insanely fortunate with my book contracts; I've been able to write novellas, single titles, trilogies, and series.  (Wait. What's plural for "series"?  Serieses?  'Cuz I've written 'em.  Don't me write good?)  And there are challenges with each.   (Like wondering what the plural for series is.)  So when Lucy at the Reading Date asked me what it was like writing a series vs. a stand-alone book, I had to sit down and give it some thought.  And I took it seriously.  I even put down my bagelwich (rare roast beef on a garlic bagel with Dijon and cukes) and everything.  And what I finally realized was, my bagelwich needed more mustard.  And that I don't like writing a series, except when I do.  And I don't like writing stand-alone books, except when I do.
Stand-alone books are like a boxing match.  You get in, you get out.  Unless a World Championship Belt or the like is on the line, you probably won't ever fight that fight again.  So there's freedom:  since you probably won't be back, you can take risks.  You can do things you normally wouldn't do.  And sometimes it pays off and sometimes it doesn't. (Among other things, this blog is revealing my total lack of knowledge about all things boxing.  And I'm okay with that.)
The downside of the boxing match is, you really liked that strategy (plot).  You liked some of those moves (characters).  The better the fight, the more you're bummed you won't get a chance to do it again.  Because now you're done.  Fight's over.  Go home and bleed on your pillowcase for a few hours, then rise refreshed and bruised and aching for a raw-egg smoothie.  (That's what boxers do the next day, right?  Again: total lack of knowledge here.)
A series, now.  A series is like a marathon you run every year:  you train and train, and eat and eat.  (It's possible that might be how I train for a marathon, as opposed to, say, a marathon runner.)  You've already run this marathon, so you know the best route, the shortcuts, and what happens at the end.  It's pretty comforting; you know you've been here before.  And while you ran this same race last year, and you'll run it next year, there's enough variety so you don't get bored.
Which brings me to the Betsy the vampire queen series, now eleven books strong.  
UNDEAD AND UNFINISHED, the ninth in the series, was me running the same marathon a different way.  Some readers thought picking a new route was a terrific change that made me a better runner.  And some readers thought I must have accidentally run into a garbage truck and hit my head.  Hard.  Certainly, arguments can be made for both!  But whether the new route bought me a win, or sent me to the ER with blood streaming from a head wound, it was better than not even trying to run.  Because after all those marathons, that's what it had come down to.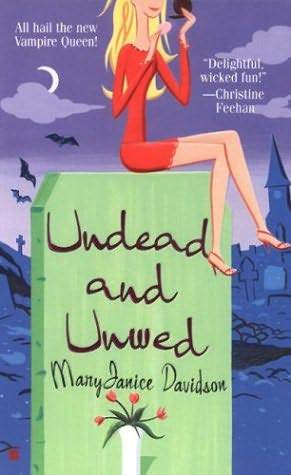 When I wrote UNDEAD AND UNWED, I had no way of knowing I'd be accidentally inventing a new romance sub-genre (paranormal chic lit), finding myself on best-seller lists, and changing my family's standard of living as well as all our lives.  I just had a story stuck in my brain and wanted to get it out.  ("Out, out, damned shoe-loving Minnesotan vampire queen!")  So I wrote it down.  And my editor really liked it.  And readers did, too, so much that they wanted to see another boxing match, because the last one was pretty fun.
So the boxing match turned into a race.  And when the race was over I was lucky enough to be invited to run another race, and another.  I found I loved racing and for several years/books, that was all that I needed.  But right around the seventh marathon, I realized I was going to have to think up a new route or I wouldn't be able to run next year.  Taking the route through the swamp wasn't messy and exciting anymore; it was making me tired.  Same old swamp.  Same old leeches.  Same crocodiles.  Definitely time to try the path that runs through the cemetery, and the car wash.
So I switched.  And I liked it a lot.  So did some of the people who'd been watching me run.  They still liked my races, but they were starting to seem the same every year; only the date was changing.  But now I was running through cemeteries, then getting drenched in car washes.  Car washes!  They couldn't have predicted that.  They loved that they didn't predict that.  They promised to follow my marathons even more enthusiastically than they had before.  They couldn't wait to see how I'd stumble through the cemetery next year!
But some of the people who'd been watching me race didn't like the new route.  At all.  Quite the opposite:  they liked when I had to flee the occasional giant leathery reptile.  They liked that I had no idea where a crocodile was lurking and could trip over one at any time.  It was something they knew would happen each year, and they looked forward to it.  Watching me zigzag around cemetery headstones not only wasn't the same, it was downright annoying.  They didn't sign on to watch me run through cemeteries, dammit.  Bring the crocs back, asshat!
But here's the thing, and there's no easy way around it:  while I was happy some people liked the new route and a little bummed some didn't, it wasn't about the people watching.  It never had been.  I didn't start running to be watched; I ran because there was nothing I'd rather do.  So the real question was, did I like the new route?
Oh yes.  And because I did, I had no trouble running the marathon that year.  Far from it: I couldn't wait.  So I decided to go after a new contract; I wanted the chance to run a minimum of two more races.  If I was still tripping over crocs in the old route, I doubt I'd have been interested in signing a contract to trip over more.
I think that's how long any series should last:  as long as you want to run.  And then quit with the racing.  Maybe take up boxing again!
For a while.
P.S.  I'm deeply sorry for all the sports metaphors.  I should probably try to get more sleep.  Or work out.  Or something.
*****
Thank you so much for stopping by MaryJanice! I love reading both series and stand-alone books and it's interesting to read the author's approach for each type of book. And for the record I also have no idea what the plural for series is. Readers, what are your opinions of series vs. stand-alone books?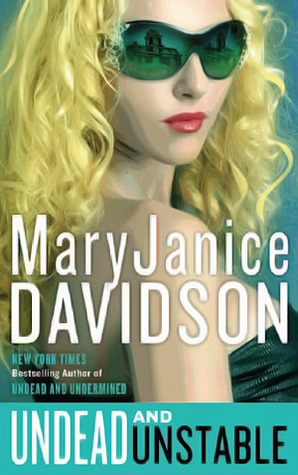 To find out more about MaryJanice's books make sure to visit her website, blog, or FB page.
MaryJanice Davidson hates boxing, racing, or strenuous physical effort of any kind.  Her current release, YOURS MINE AND OURS, about an FBI agent with multiple personality disorder, is available now, followed by UNDEAD AND UNSTABLE in June.  You can get info on upcoming releases, sneak peeks, her backlist, her blog, and/or her FB page at maryjanicedavidson.net.
Related Posts