In celebration of June is Audiobook Month I'm kicking off a string of audiobook giveaways. There will be audiobook giveaways in all genres from YA to Humor to Non-Fiction to Thriller and Historical Fiction. If today's giveaway doesn't strike your fancy, be sure to check back over the next 2 weeks for more selections. Today's selections are two of my recent favorites and were listened to once.
I got hooked on audiobooks by listening to some of my favorite books. Audiobooks help me pass the time when I'm cleaning or working out – making an unpleasant task something I look forward to. When I get lost in an audiobook my house gets spotlessly clean because I can't stop listening. And when I listen to an audiobook after I've already read the book I notice things I missed the first time. It may take some time to find audiobook narrators that you click with, but when you do you'll want to pick up all their books, regardless of genre. Who knows – you might even start looking forward to your daily commute so you can listen to more of your audiobook. So, I hope you'll give audiobooks a try and enter all my audiobook giveaways this month.
Up for grabs today are two YA audiobooks that will go to one winner:
The Probability of Miracles by Wendy Wunder. Read by Emma Galvin. Running time 8 hours, Release date Dec. 2011, Penguin Audio.
Clockwork Prince (Infernal Devices #2) by Cassandra Clare. Read by Ed Westwick and Heather Lind. Running time 15.5 hours, Release date Dec. 2011, Simon & Schuster Audio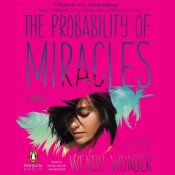 From my review:
Campbell (Cam) Cooper has been battling cancer for years, but now her doctor says only a miracle can save her now. Cam is realistic about her chances and starts to pull out her "flamingo list", a checklist of tasks to perform before she dies. Cam's mother says not so fast, and moves the family to Promise, Maine, a place where magical events occur, to try to find that elusive miracle.
Wow, I didn't expect to read one of my favorite books of the year in December. But this emotional, bittersweet, yet surprisingly uplifting story took me on quite a journey. Going into the book, I worried that it would be too depressing. And though cancer is always looming over the story, there are many very funny, sweet, and touching moments that keep it from being too much of a downer. I felt invested in Cam's story from the first lines and it kept me riveted all the way through.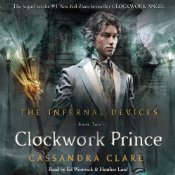 From my review:
In the middle book of Cassandra Clare's Infernal Devices trilogy, drama continues for the Shadowhunters. Charlotte may lose her seat as the head of the Institute, and Tessa, Will and Jem could soon be without a home. The team has to get to the bottom of the feud with the Magister before it's too late. Meanwhile, Tessa can't decide which Shadowhunter she loves the most.
Clockwork Prince introduces more new characters and mysteries. There are answers to questions introduced in the first book, some shocking reveals and revelations, and even more questions to ponder. We get to know side characters such as Charlotte, Henry and Sophie a little better and there are some lighthearted times in addition to the familiar mystery and angst. And lots more of my favorite Magnus Bane.
The Giveaway has ended- Congrats to Mare!
Related Posts