Here in the US the big news story is the David Petraeus (ex-CIA director) sex scandal. If that has you thirsting to read more about the man behind the headlines then this is the giveaway for you.
Check out the spoof All In book reading from SNL last night:
These two thrilling audiobook biographies will go to one winner: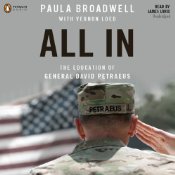 All In: The Education of General David Petraeus by Paula Broadwell with Vernon Loeb. Read by James Lurie. Running time 14.5 hours, Release date Jan. 24 2012, Penguin Audio. Publisher summary: General David Petraeus is the most transformative leader the American military has seen since the generation of Marshall. In All In, military expert Paula Broadwell examines Petraeus's career, his intellectual development as a military officer, and his impact on the U.S. military.
The Art of Intelligence: Lessons from a Life in the CIA's Clandestine Service by Henry A. Crumpton. Read by David Colacci. Running time 13 hours, Release date May 14 2012, Penguin Audio. Publisher summary: A legendary CIA spy and counterterrorism expert tells the spellbinding story of his high-risk, action-packed career while illustrating the growing importance of America's intelligence officers and their secret missions.
Congrats to Jeff who has won the giveaway!
Related Posts