The Movie Date is a weekly feature where we discuss movies that may appeal to YA readers. Andrew is The Reading Date's resident movie critic and this week he discusses The Great Gatsby 3D directed by Baz Luhrmann.

A Wall Street hopeful rents a Long Island home next to Gatsby, a millionaire with a shadowy background; Gatsby longs for a lost love who is now married and living nearby.
Disclosure: Unlike most or all of you, I've never read the famous Fitzgerald novel that the film is based on. My interest in the film came from curiosity about the book as much as love for the visual splendor that director Baz Luhrmann (Moulin Rouge) is known for. So bear in mind that in viewing the film, I was reacting to what was to me a new story.
It's always risky adapting a beloved novel (let alone a Great American one); for every satisfying Lord of the Rings there are a dozen disastrous Bonfire of the Vanities. Though this is not a well-reviewed film, I think the critics were sharpening their knives long before Luhrmann's vision hit the screen, perhaps thinking of his outrageous revisionist take on Romeo and Juliet from many years ago. Fitzgerald with hip-hop music? In 3D, no less? Outrage!
For me, I found this film tremendously enjoyable and quite successful. Rather than a crass corruption of the work, this turns out to be an extremely faithful adaptation of the novel, adhering closely to the original plot. It also owns up to its roots as a novel, using original text at great length. Throughout we see bond salesman Nick Carraway (Tobey Maguire) relating the tale, first in person, then through a handwritten journal, and finally via a typed manuscript. He narrates transitions and establishing shots with F. Scott's own gorgeous and heartbreaking language, giving us great insight into the characters and times. As Lucy pointed out, an eye-doctor's billboard featured throughout draws subtly from the original novel's cover art.  (It's hard for me to imagine a loyalist being appalled at this film, though I look forward to hearing your thoughts.)
It takes us quite a while to meet Gatsby, in fact. Instead, we get to know Nick's lovely cousin Daisy Buchanan (Carey Mulligan), her scoundrel husband Tom (Joel Edgerton), and even Tom's mistress Myrtle (Isla Fisher). By the time we do meet the reclusive Gatsby (Leonardo DiCaprio) and learn of his long-suppressed love, we hate Tom so much that we're "shipping" Gatsby and Daisy, big time. As we get to know the truth about the expansive Gatsby's unglamorous past, we actually feel for the guy. And you know the story from there, right?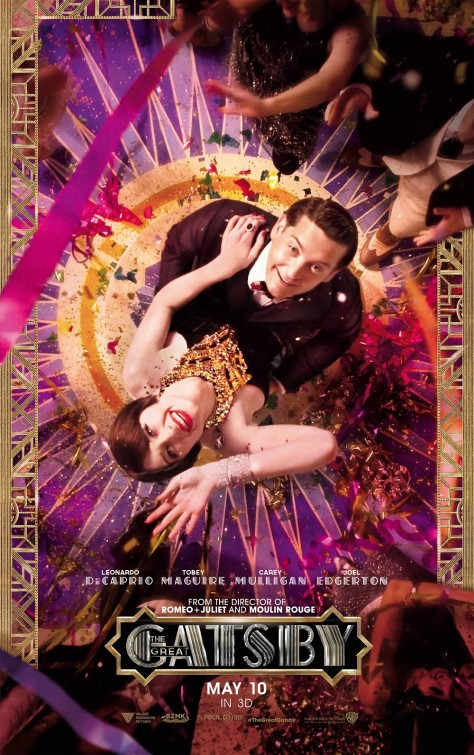 Though the tale is told calmly and clearly (I never experienced a moment's confusion, unusual for me!), the main attraction is the Jazz Age splendor, which as noted is what drew me to the film. We view the glamour of 20s Long Island and Manhattan and the grimy, industrial Valley of Ashes that lies between them with a highly artistic eye. Luhrmann's visuals and camera movements are gorgeous in the extreme, and the parties and celebrations we experience are almost overwhelming. So satiated was I with the visual overload I was actually grateful when Luhrmann settled into more conventional storytelling in the second half.
When Nick confronts Gatsby about his obsession with times gone by, the tycoon answers, "Can't repeat the past? Why of course you can!" Though Gatsby's desire to reprise his history is seen as his fatal flaw, I find it amusing that this is the film's great strength: its ability to dig into the past with great accuracy and make it relevant to a new audience, even to a viewer as non-literate as me.
A note about the 3D version: Most 3D films available these days are post-processed, which means the "deep" images are faked digitally from 2D originals, leading to fairly crude results. However, Luhrmann actually shot this film in 3D and the images are well-rounded, authentic, and gorgeous. I've been waiting a long time for a non-action picture to be made in 3D and I'm really pleased with this one. Instead of cheap thrills, the result here is intense beauty, which is certainly a thrill of its own.
The Great Gatsby opened May 10 and is rated PG-13. Running time: 142 min.
Related Posts