I'm so pleased to welcome Tonya Hurley to the blog today to introduce Lucy from Precious Blood. (Hey, that's my name too!) There's also a very cool giveaway that you won't want to miss.
Saints and Sinners Tour – Post 5
By Tonya Hurley
During my research for Precious Blood, it became clear to me that many of the saint stories of the ancient past are some of the earliest YA stories we have, pious romances full of teenage rebellion, gruesome death and supernatural love – albeit of a particular kind.  These girls, these martyrs, have been revered for centuries.  There is no fifteen minutes of fleeting fame in their cases, not only are they household names in many instances, but they are worshipped.  Their legends handed down from generation to generation.  Schools and churches stand in their names.  They are a part of our everyday lives in some way or another.  In a very deep way, one that will never have their names on a denim line on the discount rack at Kmart.  The legend of Saint Lucy is a perfect example of this.
LUCY of THE BLESSED Trilogy
In Precious Blood, Lucy Ambrose is a social climbing scenster on the edge and on a mission.  Brash, vain and self-centered, Lucy pursues fame and being seen as a career move, tipping off columnists and photographers, walking red carpets citywide for the latest movie premiere, fashion show or product launch, monetizing her visibility with little regard to who she steps on or over in the process.  She dresses to kill and has an attitude to match.  Lucy's sharp elbows and sharper tongue are survival skills she has developed to succeed in the high stakes celebrity shark tank. She finds herself feeling increasingly guilty as she sinks in the flood of gossip and lies she has unleashed.   Her namesake is Saint Lucy, the patron saint of vision, and Lucy Ambrose is all about looks – her own and the ones she craves from others.
Today the Saints and Sinner tour also stops by All Things Urban Fantasy to introduce the other Lucy!
Precious Blood by Tonya Hurley is new to paperback from Simon & Schuster Books for Young Readers:
What if martyrs and saints lived among us? And what if you were told you were one of them?

Meet Agnes, Cecilia, and Lucy. Three lost girls, each searching for something. But what they find is Beyond Belief.

The story begins in PRECIOUS BLOOD and continues in PASSIONARIES, available 1/7/14.
About the Author
Tonya Hurley is the New York Times best-selling author of the highly acclaimed "ghostgirl" book series; creator, writer and producer of animated and live action hit television series; writer and director of independent films; writer and director of commercials for Playstation, Gameboy and Warner Home Video; and creator of groundbreaking videogames. Her new young adult trilogy, THE BLESSED, begins with Precious Blood.
Praise for Precious Blood:
"Our new favorite dark, sexy rock-n-roll thriller." (SugarScape.com)
"Intriguing premise, fiery dialogue, and digs about celebrity-obsessed culture that moves at the speed of Twitter…" (Publishers Weekly)
"…Hurley brings her deadpan wit and blackest humor to the first tale in this trilogy about spirituality, sacrifice and supernatural romance." (MTV Hollywood Crush)
GIVEAWAY!
One (1) winner will receive:
·         Earbuds (courtesy of Cecilia, Patron Saint of Music)
·         Sunglasses (courtesy of Lucy, Patron Saint of Sight)
·         Essie Chastity Nail Polish (courtesy of Agnes, Patron Saint of Chastity)
·         Copy of Precious Blood
·         AND a Lucy t-shirt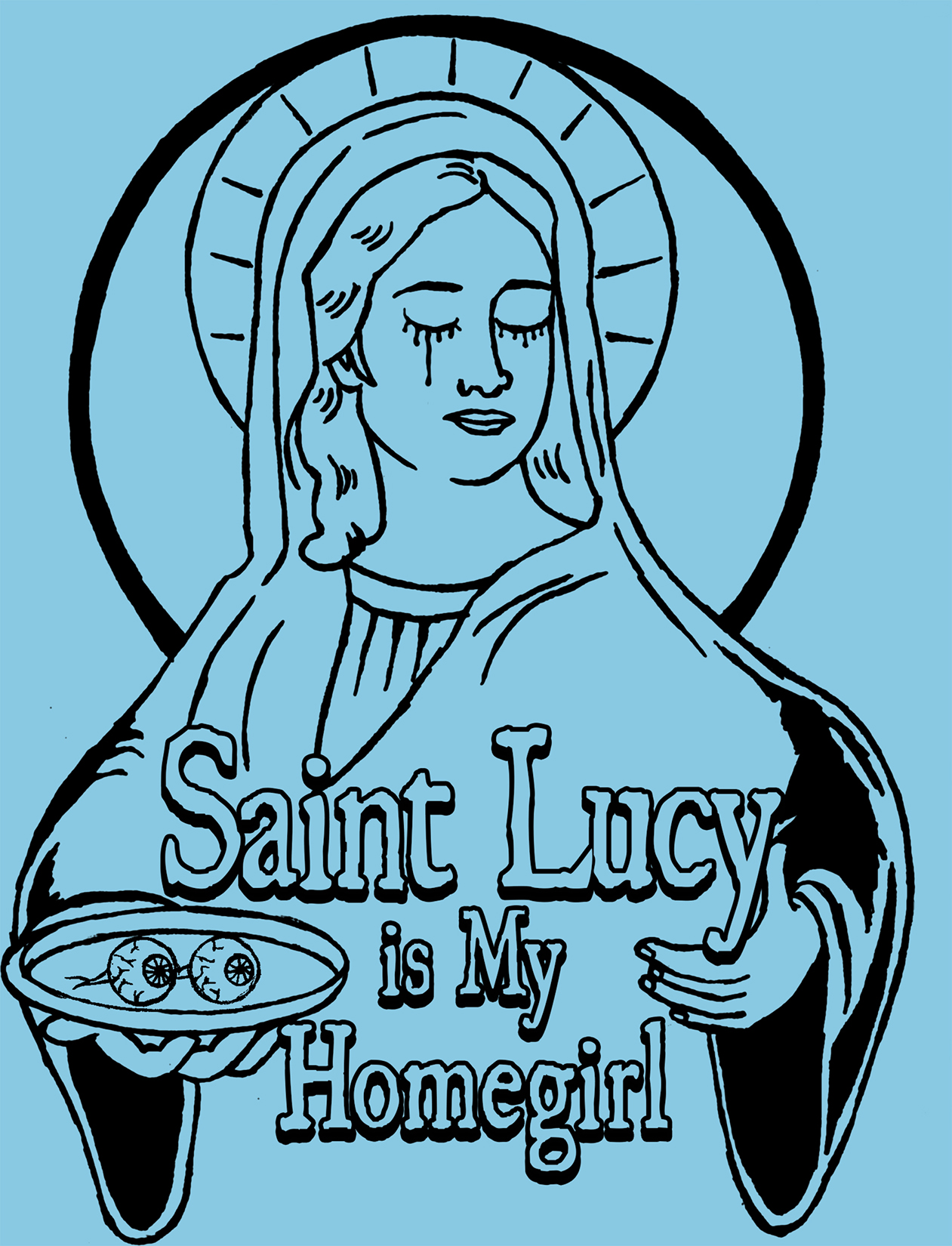 Giveaway open to U.S. addresses only.
Prizing & samples courtesy of Simon & Schuster.
Congrats to Jessylyn who won the prize pack!
Visit Tonya and find out more about Precious Blood:
Learn more at http://theblessed.com
Like The Blessed on Facebook
Follow The Blessed and Tonya Hurley on Twitter and join the conversation using #PreciousBlood
Follow The Blessed on Pinterest
Follow along with all the stops on the Saints and Sinners Blog Tour:
Monday, June 17: Meet Agnes the girl at Confessions of a Bookaholic and Agnes the Saint at Candace's Book Blog.
Tuesday, June 18: Meet Cecilia the girl at Bewitched Bookworms and Cecilia the Saint at A Life Bound by Books.
Wednesday, June 19: Meet Lucy the girl at The Reading Date and Lucy the Saint at All Things Urban Fantasy.
Thursday, June 20: Meet Sebastian the boy at Vampire Book Club and Sebastian the Saint at The Book Cellar.
Friday, June 21: In Bed With Books has a Q&A with Tonya.
Related Posts