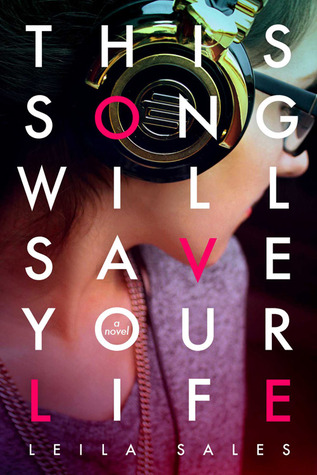 Book: This Song Will Save Your Life by Leila Sales, Farrar, Straus and Giroux (BYR), On Sale September 17
Book Info: YA Contemporary, Review copy provided by the publisher, Available in HC 288 pages
Rating: 4 / 5 Stars
More Info: Goodreads | IndieBound | Amazon
This Song Will Save Your Life is the first book I've read by Leila Sales, but it won't be my last. As a big music fan, the fact that this book is about a troubled girl who learns to be a DJ sounded pretty awesome. TSWSYL is easy to relate to- who hasn't felt like an outsider at times, and I rooted for Elise to find her own beat.
Elise is sixteen and a loner at school. She's bullied and wants to get out of the cycle and find a place to belong. She puts herself out there by smiling and wearing the right clothes but nothing seems to work. In a desperate cry for help she attempts suicide, but the aftermath of that decision makes things worse. And someone is even cyber bullying her by taking on her persona in a fake blog. She copes by walking the streets at night listening to music, and one night she walks by Start, an underground dance club. She meets two girls (Vicky and Pippa) who invite her to join them, and Mel the doorman, and Char the DJ complete the makeshift family. Start becomes a weekly nighttime haunt for Elise, and before long she's spending time with Char learning the art of DJing.
Leila Sales' writing makes those feelings of loneliness and despair from high school feel real. You can feel Elise's desperation and how she tries so hard to fit in. One of the other sides I found interesting about Elise's character is that she is so self-aware, and gifted in a lot of ways; she picks up new talents very quickly, and that maybe is what makes her intimidating to others.  I liked seeing Elise own her amazing qualities as she learned not to hold herself back just to please others. The dark days for Elise can be hard to take but the ray of hope found at Start balances them out.
Something else I loved about the book was of course the music.  Music can be a salvation, and Elise learned that from a young age. Elise's dad (Elise's parents are split and she divides her time between two households) is in a one-hit wonder band and exposed Elise to all different types of music from a young age. So, she has a vast arsenal of songs in her pocket to use in the DJ booth. Elise learns to read the crowd at Start, and becomes an unstoppable force. The tricky thing is managing this double life when you're a late-night DJ / high school sophomore.
Besides the music, I liked seeing the friendship relationships develop in the book, and found Elise's growth very satisfying.  There's a little bit of a romantic storyline but it's not the main focus, and the friendship angle is what I found the most meaningful.
This book has a hopeful "things will get better" vibe and I would have loved to read it when I was in high school. I don't think I could have gotten away with sneaking out at all hours to DJ on a school night though!
If ever it was appropriate for a book to have a playlist, it's for TSWSYL, and the official book playlist below includes a lot of the songs played at Start:
Related Posts