It's almost time for the Audie Awards! The Audies celebrate distinction in audiobooks and spoken word entertainment and are sponsored by the Audio Publisher's Association. You can see all the 2014 nominees & listen to audio samples here.
I've listened to the Teen category again this year for the Armchair Audies and am pleased to share my wrap-up post. I didn't get to write up a full review of each nominee, but below please find a brief synopsis of each nominated book, thoughts on the audio production, and my prediction.
Congrats to all five Teen nominees:
1. Eleanor & Park is set in Omaha, Nebraska in 1986. It is the story of an all-consuming first love formed from a shared comic book and alternative music connection.
Rebecca Lowman and Sunil Malhotra read the audiobook, and I thought they both did a great job, capturing just the right tone.  Each narrator uses different voices to bring the characters to life, and I think the audiobook format made it easier to connect with both Eleanor & Park. Rebecca Lowman brings a weary sophistication to Eleanor's voice, and Sunil Malhotra's Park has a quiet power. This is an audiobook I didn't want to stop listening to, and will probably listen to again. (I did!) Eleanor & Park the audiobook enhanced Rainbow Rowell's writing and is an emotional, powerful listen.
2. Far Far Away is the story of Jeremy, a boy who can hear spirits.  Jacob Grimm, the narrator of this yarn, and one of the famous Grimm brothers, guides Jeremy along as he navigates through his own dark fairy tale.
The actor W. Morgan Sheppard performs the audiobook and he is a wonderful storyteller.  He is a great fit for the ghostly narrator, Jacob Grimm. Sheppard plays up the humor and spooky fairytale quality of the narrative. Sheppard's performance enhanced the fairytale like story, and I don't think I'd enjoy it as much in print. This is a great audiobook to listen with the whole family.
3. Forgive Me, Leonard Peacock takes place over 24 hours as Leonard sets out to carry out a murder-suicide plan on his 18th birthday.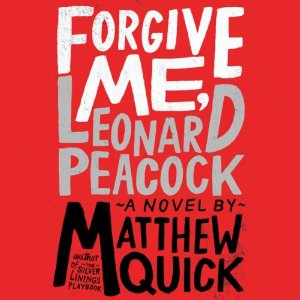 Noah Galvin does a great job getting into the mind of Leonard- he becomes the character. You can hear the hurt, anger, confusion, and sadness in his words. It's hard to listen to the audiobook at times, because it does make the story hit home even more. The audiobook incorporates the footnotes (the print version includes approx. 70 footnotes) into the story seamlessly so you'd never know they existed stylistically. The narrative shifts between past and present, but it doesn't get confusing in the audiobook. The only thing that threw me at first was the "letters from the future" though I think maybe that's purposeful. Leonard is a powerful book made even more powerful in audio form.
4. Rose Under Fire is the companion book to Code Name Verity and is about Rose Justice, a WWII volunteer pilot captured by the Nazis and sent to the Ravensbrück concentration camp. The book is composed of Rose's journal entries that relay her and her fellow prisoners' harrowing stories.
Sasha Pick portrays Rose with a plucky, bubbly voice. She sounds age appropriate for Rose and a clear, pleasant voice. As the story progresses though, Pick tones down the cheeriness to more suit the somber tone.  Pick does use different accents for the characters and has a good vocal range.  Some of the vocal choices are a little overdone for my taste though Pick gives it her all to bring the characters to life.
5. Viva Jacquelina! is book 10 in the Bloody Jack / Jacky Faber series of historical adventure novels. In Viva Jacquelina, Jacky is a spy for British Intelligence and her latest mission sends her to
Spain during the Peninsular War.
Katherine Kellgren gives a frolicsome, fearless performance. This book is just a ton of fun. Kellgren sings, she uses a variety of accents to tell the tale, and makes the story richer with her devil-may-care reading. I have sadly not read the previous books, but this installment still delights even though I don't have the full background. There are historical and literary Easter eggs that are a treat to spot, and this would make a fun family listen. Kudos to Ms. Kellgren!
My prediction: It was a tough decision, but I have to go with Eleanor & Park as my choice. The performers vocal skill harmonized with Rainbow Rowell's writing perfectly.
Did any of your 2013 favorite audiobooks make the list of nominees? If not, what was your favorite teen audiobook of the year?
The Audie Awards gala is held May 29th – check back and see if my prediction was right!
Related Posts