For your beach reading enjoyment you might want to try something like The Lemon Grove. It's about forbidden desire and family dynamics and it's set in sun-soaked Mallorca. This is a smart, erotic read and an uncomfortable, edgy (and addicting) little book.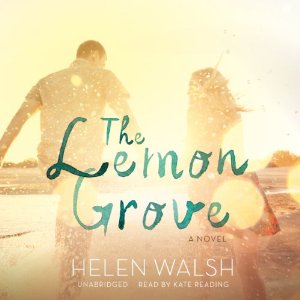 Book: The Lemon Grove by Helen Walsh, Blackstone Audio, on sale now
Book Info: Audiobook received for review from Audiobook Jukebox. Running time: 6 hours 12 minutes. Read by: Kate Reading. Also available in e-book or hardcover, 224 pages from Doubleday.
Jenn and her husband Greg are on summer holiday in Deià, a small coastal village in Spain. Greg's 15-year-old daughter Emma arrives for the last week of their stay, with her 17-year-old boyfriend tagging along. Jenn and Nathan have an immediate sexual attraction that Jenn tries to suppress, and her feelings turn into a dangerous obsession that threatens to destroy her family.
The arrival of Emma and Nathan bring all these other issues to the surface and disrupt Jenn and Greg's idyllic vacation. Jenn starts to reflect on her feelings on aging and desire, her rocky relationship with her teenage stepdaughter, and her stale marriage. Nathan is the shiny new toy who makes Jenn see everything differently.
This situation gets very tense on the island as Jenn comes to terms with her feelings for Nathan. It all feels taboo and uncomfortable, and I had a hard time finding whom to root for in this story. I felt like I was watching a foreign film that really pushed my boundaries. Helen Walsh has a unique voice, and makes the most of the setting and characters, and ooh what a chilling ending!
I listened to the audiobook of The Lemon Grove (I alternated with the kindle edition since I really couldn't put it down!) Kate Reading is the narrator and she has a British accent like the characters, and uses different voices and dialects to help identify each character. Nathan's voice is working class and cocky like the character, and Emma's voice is appropriately bratty. Reading's pace was on the slow side for me so I sped it up to 1.5 and that was perfect. You'll probably want to tuck a print copy into your beach bag, but the audiobook is a serviceable alternative. Listen to a sample:
Read The Lemon Grove if you like: Crossover books, smart erotic reads, exotic settings, family drama, and you are comfortable reading about taboo relationships
Related articles
Related Posts