Top Ten Tuesday is an original feature from The Broke and the Bookish. This week we're talking about our non-bookish obsessions –  favorite Movies or TV Shows.  The Emmy nominations were announced last week and some of my picks were nominated, but mostly not. (I'm still mad about The Good Wife and The Mindy Project snubs)
Here's some of my TV faves- I went with current shows rather than old standbys:
Comedies:

1. The Mindy Project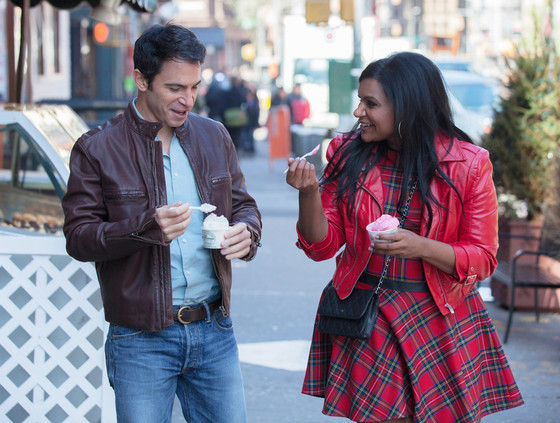 Do you love romantic comedies? This show is for you! It's about Dr. Mindy Lahiri and her romantic adventures in NYC. It has sharp writing, quirky characters,  and it's consistently funny. Stream it on Hulu Plus.
2. Parks & Recreation
Love this cast (led by Amy Poehler) and the funny situations they find themselves in. And ooh I can't wait to find out what happens next season! Seasons 1-5 now streaming on Netflix, season 6 on Hulu Plus.
3. Silicon Valley
This is an HBO show that just finished its first season. It's about a group of guys trying to strike gold with their big idea in Silicon valley. Check it out on HBOGo.
4. Brooklyn Nine-Nine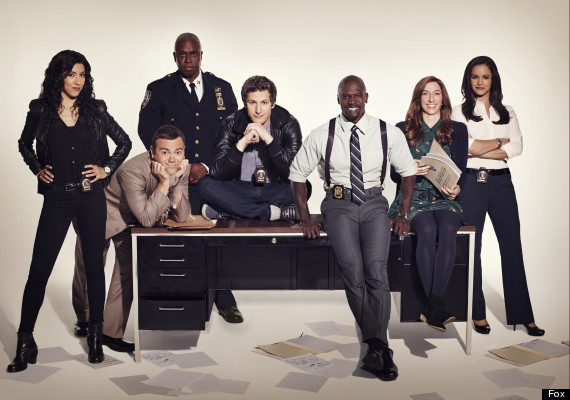 Andy Samberg's action/comedy cop show is silly but very entertaining. It's re-airing on Fox this summer or you can catch it on Hulu Plus.
Dramedies:
5. Orange is the New Black
I binge-watched season two but I'm watching it again an episode a week. I love that the series focused on so many great stories and characters this season. So deserving of all its Emmy noms! Catch it on Netflix.
6. My Mad Fat Diary
This is a British show based on the YA book by Rae Earl. It's about a teenage girl who just left a psychiatric hospital,  and the group of friends meets. It's set in the 90s so there's lots of grunge-wear and Oasis songs. I still haven't been able to track down series two- hope it airs in the US soon.
7. Parenthood
This heart-warming show centers on the Braverman family and includes all kinds of drama, but there are comedic moments as well. Since it's from Jason Katims of Friday Night Lights fame, it's a treat to see many old-favorites from Dillon, Texas make an appearance. Stream it on Netflix.
Dramas:
8. The Good Wife
Whoa this last season was intense and maybe my favorite yet! Love this legal drama, and the way this show has evolved and still surprises over six seasons. Catch up on seasons 1-5 on Hulu Plus.
9. The Killing
I'm so glad Netflix picked up this crime drama. I'm glad that Holder and Linden are getting a proper send-off and anxiously await their Netflix debut on August 1. This series was already so dark on AMC, so I wonder how disturbing the new episodes will be.
10. Mad Men
The Madison Avenue adventures of Don Draper are coming to a close. Hope the series finale satisfies! Catch the first six seasons on Netflix streaming.
What are you watching when you're not reading?
Related Posts