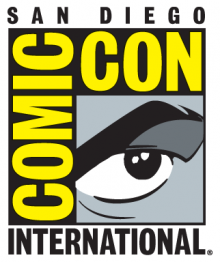 Hi All! I'm in San Diego this week for Comic-Con. As these things go, I'm not doing everything I planned but I'm having fun anyway.
There's one day left before SDCC 2014 is a wrap but here are five memorable events from the Con so far:
1. Orphan Black – So, it's no secret Andrew and I are big fans of the show and the awesome cast. After attending last years panel (in a very small room) we knew that it would take time and effort to work our way in to see them a second time. Long story short, we made it in again! There was a lot of love in the room for Tatiana Maslany, Jordan Gavaris and the whole cast of Orphan Black. Viewers feel a very personal connection to the show and appropriately the most meaningful moment from the panel came from a fan question. A fan shared her coming out story and how watching Orphan Black helped her mom be more accepting of her choice. I was in tears as were the panelists and audience members. EW sums it up well:
Some attendees told the cast how Orphan Black had deeply impacted their lives, including one girl who said she came out after watching the show. Her parents initially didn't accept this, but when her mom started watching Orphan Black with her, "it helped us rebuild our relationship," she said, "because she sees Cosima, and she sees that it's okay and that people are more than their sexuality." The story had Maslany tearing up.

Jordan Gavaris, who plays Felix, had a heartfelt reply: "In life sometimes, we reduce people down to things like sexuality, their diseases like cancer, or their sex or their gender, or whether or not they like Game of Thrones. But that is not who people are. People are complex, as we say in the show."
2. American Horror Story: Coven – If you haven't seen it, this remarkable anthology series features a largely ongoing cast playing different characters and telling different frightening, supernatural tales season to season. It was created by Glee mastermind Ryan Murphy, and according to cast member Kathy Bates, he's more fear-inducing than anything else on the show (paraphrase): "After having him direct me one day, I couldn't sleep until 6am, and then I slept for thirty hours." The energetic, uproarious panel drew from the quick repartee between Bates and Sarah Paulson, and also featured returning actors Emma Roberts, Angela Bassett, Evan Peters, new cast member Michael Chiklis (The Shield) and showrunner Tim Minear. They discussed their recent series Coven (about a young witches' school in New Orleans) and teased the upcoming series Freakshow (about a circus sideshow set in 1950s Florida). In spite of a few sentimental and deeply moving moments, the energy generated from this friendly, lively cast was fearsome, and the improvisation was so hilarious I started hoping Murphy would spin the series off into "American Comedy Story." (Andrew)
3. True Blood– I wanted to attend the final True Blood panel mainly for nostalgic reasons. The quality of the show is uneven these days but since I've stuck with it this far I'll see it through to the end. There were a good number of cast members present including Carrie Preston's (Arlene) first panel appearance  (Only notable absences were Alexander Skarsgard and Ryan Kwanten.) Kristin Bauer van Straten (fan favorite Pam) cried throughout the panel so that became a running gag. When Anna Paquin (Sookie) was asked whom she wanted Sookie to end up with she answered that she usually dodges that question because she says the wrong thing and gets in trouble. Then, instead, she hilariously spoiled the ending of the True Blood book series by stating she understood why Charlaine Harris chose to have Sookie end up with (spoiler.) It was a very nostalgic panel with actors recalling their favorite seasons and scenes and what they wanted to take home from the set. Producer Brian Buckner was on hand and kind of defensive about the fan reaction to how things have gone down this season.
4. Outlander – The author, cast and crew of the upcoming series Outlander were on hand to give us a glimpse of the new series, and the series had a big presence at the Con and there was a special screening of the first episode off-site. Outlander airs August 9 on Starz, or you can watch it online August. 2. I haven't read the book so I was hoping for this panel to sell me on the show/book. Though I felt this panel was more geared towards fans of the book rather than new potential fans, I liked the look of the trailer and the actors and crew seem very excited about the project. Mainly I was impressed with author Diana Gabaldon– she's very pleased with this adaptation so that seems like a good sign. She said she was horrified when people tried to make her book into a two-hour movie (the first book is almost 900 pages) and she's glad that this team seems to get it. Here's the trailer:
5. Books – I have not gotten to do many bookish things at the Con this year, sadly. The publisher's booths are kind of an ordeal these days so I've stayed away, though I did catch one author panel and attend one signing. Also I got to meet my blogging pal Thuy from Nitelite Book Reviews!
The one book panel I went to (so far) was "End of Series…Or Not" and it included authors Laini Taylor (Dreams of Gods & Monsters/Daughter of Smoke & Bone Trilogy), Lev Grossman (The Magician's Land/The Magicians Trilogy), Leigh Bardugo (Ruin & Rising/The Grisha Trilogy), Jonathan Maberry (Fire & Ash/Rot & Ruin Series), Ben H. Winters (World of Trouble/The Last Policeman Trilogy), Lynn Flewelling (Shards of Time/ Nightrunner Series), and Kresley Cole (Dark Skye/Immortals After Dark Series). Not a bad lineup right? All the authors talked about their approach to writing series. I thought Leigh Bardugo had a great sense of humor in particular- I need to catch up on her books. Laini Taylor said that she thinks spinoffs or prequels belong more in fanfiction. She hopes that she will get the chance to continue the Dreamdark series one day. Jonathan Maberry related how he wrote a prequel of sorts to his YA Rot & Ruin series but for adults. This prequel will show the apocalypse that led to the world of Rot & Ruin. He also said he continued to write the Rot & Ruin series until he got his main character to a point where he liked him.
Earlier that day I attended an author signing (Science Fiction and Fantasy Literature) and got to get books by Marie Lu and Rachel Caine signed. It was fun to chat with readers in line and with the authors. Very excited to read Lu and Caine's latest books – The Young Elites and Prince of Shadows.
Tomorrow's the last day of the Con- the traditional shopping day, Hall H TV day, and Buffy the musical sing-along day. One of those things I'll be doing for sure.
Check back next week for a few more panel wrap-ups!
Related articles
Related Posts