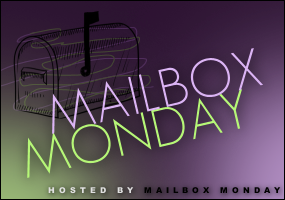 Mailbox Monday is a weekly event where we share our latest book arrivals. Link up and find new mailboxes to stalk at the Mailbox Monday blog!
This weekend we have been cleaning out our garage, where we have so many things to get rid of. It's going to be awesome when it's all cleared out. Are you feeling the urge to do some fall cleaning too?
Also, I spent some time culling my bookshelves, and ended up with two boxes to donate. It's nice to have room on my shelves again!
I actually have to cull my e-book collection too, because I got a "kindle is out of memory space" message- eek! Maybe it's time for an e-reader upgrade.
Here's my week in books:
For Review:
The Walled City by Ryan Graudin – I grabbed this in a Netgalley promo and it sounds intense. It's about a "lawless labyrinth run by crime lords and overrun by street gangs" and it's based on Hong Kong's Kowloon Walled City.
Hello from the Gillespies by Monica McInerney – The family Christmas letter doesn't get sugar coated this year, as Angela vents about the real goings on in a draft letter, and it gets accidentally sent out! I can't wait to find out what happens next.
Overdrive Digital Library/Audiobooks:
The Unfinished Life of Addison Stone by Adele Griffin, read by a full cast – This docu-novel is about the death of an artist, and interviews piece together what happened. I hear the story telling is very cool, and I hope that the audio format works well.
Veronica Mars: The Thousand-Dollar Tan Line by Rob Thomas, read by Kristen Bell – We just watched the VM movie and started watching the TV series, so I saw the book and thought why not.
The Scandalous Sisterhood of Prickwillow Place by Julie Berry, read by Jayne Entwistle – This middle grade mystery looks very fun!
Purchase: 
I'll Give You the Sun by Jandy Nelson – I ordered a signed copy from the author's book launch, and the book is so pretty! There is so much hype about this book that I think I'm going to let that settle down a little before reading. It sounds very much like a me book though.
Dragonfly in Amber by Diana Gabaldon – While waiting for Outlander's return in April, I'll be making my way through the books.
What's new in your mailbox?
Related Posts