Mailbox Monday is a weekly event where we share our latest book arrivals. Link up and find new mailboxes to stalk at the Mailbox Monday blog!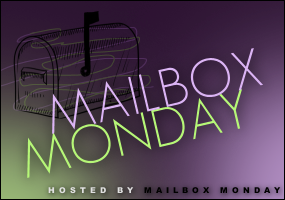 I ended up taking a mini reading/blogging break this week while my laptop was being repaired. It was kind of nice though to step away for a few days and get refreshed, but I missed all of you. The readathon this weekend gave me a reading boost- did you participate?
Here's my week in books:
ebooks for Review:
Independently Wealthy by Lorraine Zago Rosenthal – This is the follow up to last year's New Money (a modern day Manhattan Cinderella story) but can be read as a standalone. In this book, Savannah investigates her father's death and finds more than she bargained for.
French Kissed by Chanel Cleeton – The third and final book in the International School trilogy, featuring fan favorite Fleur.
Love May Fail by Matthew Quick – I am a big fan of Quick's and excited he has a new book coming out. Though this book comes out in June, it was announced that Sam Raimi is directing a movie version. Here's the official word on Love May Fail: "An aspiring feminist and underappreciated housewife embarks on an odyssey to find human decency and goodness—and her high school English teacher—in New York Times bestselling author Matthew Quick's offbeat masterpiece, a quirky ode to love, fate, and hair metal."
Audiobooks for Review:
Sublime by Christina Lauren, read by Elizabeth Louse and Cal Wembly – This is the writing duos first YA offering, and quite a departure from their other contemporary romance novels. This is some kind of ghost story, so very appropriate for this time of year!
Famous in Love by Rebecca Serle, read by Tara Sands – This coming of age is about a girl who gets discovered and gets the change to star in a big Hollywood blockbuster book adaptation.
Glory O'Brien's History of the Future by A.S. King, read by Christine Lakin – King's books are always so interesting and unique and this one is about "freedom, feminism and destiny."
Purchased:
My True Love Gave to Me edited by Stephanie Perkins – I love holiday themed stories, don't you? This collection includes so many YA superstar authors.
Thank you so much to: St. Martin's, Chanel Cleeton, Harper, Simon & Schuster Audio, and Hachette Audio.
What's new in your mailbox?
Related Posts