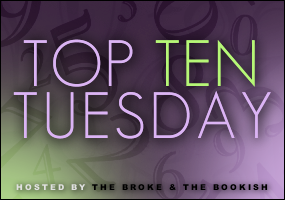 Top Ten Tuesday is an original feature from The Broke and the Bookish. This week's topic is the Top New Series I Want To Start.
I started jotting down series books I haven't read and came up with a lot! I think I'm not a "series" girl at heart but there are some that have caught my eye. I just started reading the Outlander series (I'm on book 3) so that is taking up all the series real estate on my kindle – but when I'm done look out!
We are focusing on "New" series books so I'm interpreting that as the series is either ongoing or just wrapped in the last year.
I want to read these series books, I really do:
YA:
1. The Raven Cycle series by Maggie Stiefvater – I have read all of Stiefvater's other books so I'm not sure why I haven't started this series yet. The third book Blue Lily, Lily Blue is on sale today so I think a binge read is in order.
2. The Starbound series by Amie Kaufman and Meagan Spooner – I haven't read a good space-set series since Across the Universe. And these covers are so pretty!
3. The Grisha series by Leigh Bardugo – I have the whole trilogy in audio format and just need to get listening.
4. His Fair Assassin series by Robin LaFevers – Now that the series conclusion is almost here this is another binge read candidate.
5. Nantucket series by Leila Howland – This duology looks perfect for summer.
NA/Romance:
6. Marked Men series by Jay Crownover – I got a little burned out on NA, but I keep hearing good things about this series.
7. Game On series by Kristen Callihan – This is the first book in a new NA sports romance series and it's also getting good buzz.
8. Blue Heron series by Kristan Higgins – The fourth book in this series, In Your Dreams, just came out a few weeks ago. This series looks sweet and fun!
9. Lucky Harbor series by Jill Shalvis –  The 12th and final book, One in a Million, just hit shelves this month! I have some catching up to do.
10. Cocktail series by Alice Clayton – This humorous romance series looks fun.The fourth book, Mai Tai'd Up, comes out in December.
 What series are you eager to try? Have you read any of these- which one should I move to the top of the list?
Related Posts