Mailbox Monday is a weekly event where we share our latest book arrivals. Link up and find new mailboxes to stalk at the Mailbox Monday blog! Hope those of you that had a 4-day holiday weekend enjoyed yourselves. It went by so fast!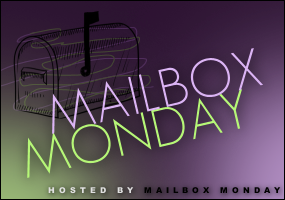 Here's my week in books:
Review eBooks:
Bad Romeo by Leisa Raven – Two college exes and Romeo & Juliet stars meet again when they are cast in the same Broadway show.
The Queen of Bright and Shiny Things by Ann Aguirre – A contemporary YA about Sage and Shane, two broken people who find each other.
The Secrets We Keep by Trisha Leaver – A girl takes over her twin sister's identity to deal with the guilt over her death.
In Some Other World, Maybe by Shari Goldhagen – This book is about three groups of strangers whose lives intersect over the years.
The Bookseller by Cynthia Swanson – A Sliding Doors type of book about a single bookseller who dreams another life where she's married with kids.
The Life Intended by Kristin Harmel – A woman is haunted by dreams of her deceased first husband right before she is supposed to remarry. Is she meant for a different life?
The Grown Ups by Robin Antalek – Three teens stay in touch over a decade through love triangles and family trouble.
Review/Library Audiobooks:
The Secret Sky: A novel of forbidden Love in Afghanistan by Atia Abawi, read by Ariana Delawari, Assaf Cohen – Two teenagers, a Hazara girl and a Pashtun boy, fall in love – despite family, culture and the Taliban's wishes to keep them apart.
Redeployment by Paul Klay, read by Craig Klein – This book of short stories about the wars in Iraq and Afghanistan recently won the National Book Award.
Rites of Passage by Joy N. Hensley, read by Khristine Hvam – I've already read this book, but I liked it enough to want to see how the audiobook compares.
Vivian Divine is Dead by Lauren Sabel, read by Roxanne Hernandez – A teen celebrity goes on the run after receiving a death threat, leaving this actress with no choice but to saver herself.
Thank you so much to: St. Martin's Press, Feiwel & Friends, Farrar, Straus & Giroux, Harper, William Morrow Paperbacks, and Recorded Books.
What's new in your mailbox?
Related Posts