Happy New Year! Are you making any resolutions this year, or joining in any reading challenges? Last year I only participated in the Goodreads challenge (I rocked my goal, yay!) but I missed participating in other reading challenges, so I'm going all out this year. There are challenges to stretch my mind and body, and get me organized. I'm excited to get started!
My 2015 challenges: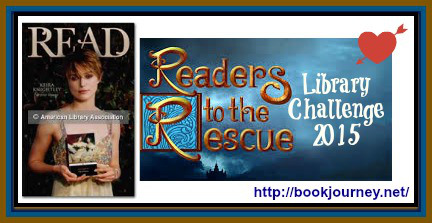 Hosted by: Book Journey
Objective: Get to know your local library! Promote the events your library offers, check out new releases, put pre-release books on hold, and utilize your digital library as well.
Since most of my audiobooks come from the library this challenge is a cakewalk for me- I'm going for the "Going Pro" level of 28 checkouts.
Hosted by: The Book Nympho & Hot Listens
Objective: Give audiobooks a try or beat last year's listening record. Any genres count, re-reads count- they only need to be in audio format!
Last year I listened to 106 books, which is a personal best for me. Not sure if I can beat that next year but I'm signing up for the "Marathoner" level which is 50+ audiobooks.
[

challenge

-

progress 

for

=

"Audiobook Challenge"

]
Hosted by: The Geeky Blogger & That's What I'm Talking About
Objective: Readers focus on fitness! Get moving with your exercise regime of choice. There are weekly check-ins and monthly "are you in" posts.
This year I struggled with keeping up with my workouts due to injuries but I've picked it up again. I've been logging my food and workouts and this challenge is another way to help me meet my goals. And since I listen to audiobooks I can get my "reading" in at the same time!
Hosted by: Reading Wishes & Rather Be Reading
Objective: Read more diverse books! There are no set goals or minimums for this challenge, so it's low stress. However, you are encouraged to read at least one diverse book a month. I do that already for the YA Diversity Book Club, but the more diverse books the merrier!
[

challenge

-

progress 

for

=

"Dive Into Diversity"

]
Hosted by: The Book Addict's Guide
Objective: Get your blog organized! This is a half-year challenge that outlines monthly tasks to help you keep your blog looking spiffy.
Since moving to WordPress.org six months ago, I haven't really taken the time to figure out all the bells and whistles of self-hosting. I'm looking forward to spending some time cleaning up my blog this year, and the monthly tasks I think will help make this process more manageable.
Other fun challenges I'm perusing: Pop Sugar Ultimate Reading Challenge, Book Riot Read Harder
Good luck with all your 2015 reading goals! Let me know what reading challenges you've signed up for.
Related Posts