Mailbox Monday is a weekly event where we share our latest book arrivals. Link up and find new mailboxes to stalk at the Mailbox Monday blog! Happy New Year, friends! I took a little blogging break last week so today I have two weeks of books to share.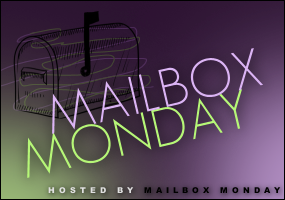 Here's my week in books:
Books in the Mail:
The Rosie Effect by Graeme Simsion – Sequel to The Rosie Project. Audiobook read by Dan O'Grady.
Rumble by Ellen Hopkins – Audiobook read by Kirby Heyborne.
Black Dove White Raven by Elizabeth Wein – For the YA Diversity Book Club. Wein's latest book explores race and gender issues and the Second Italo-Ethiopian War.
The Carnival at Bray by Jessie Ann Foley – I'm reading all the Morris nominees for a blog tour, and this is a 90s set coming-of-age about music, Ireland, love and loss.
Gabi, A Girl in Pieces by Isabel Quintero – This is another Morris nominee, and I've already read this one. Wonderful debut about a young poet who learns to get comfortable in her own skin.
The Tragic Age by Stephen Metcalfe – A coming-of-age about a boy who retreats from the world until two new people in his life open his eyes to new possibilities.
Review eBooks:
Emmy & Oliver by Robin Benway – Emmy's best friend Oliver returns after being kidnapped by his father ten years ago. Can they pick up where they left off or has that ship sailed?
The Night We Said Yes by Lauren Gibaldi – A then-and-now story about friends that try to recreate one life-changing night.
Between the Notes by Sharon Huss Roat – During hard times Ivy and her family lose their house and move to a less upscale neighborhood. She turns to music and new friends and learns more about herself.
Between Us and the Moon by Rebecca Maizel – Secrets, love and lies abound during one transformative summer on Cape Cod.
Paperweight by Meg Haston – Stevie is in an eating disorder clinic, dealing with guilt over her brother's death and her eating disorder.
Tiny Pretty Things by Sona Charaipotra, Dhonielle Clayton – Described as Black Swan meets Pretty Little Liars. It features diverse characters attending an exclusive Manhattan ballet school. May 26, HarperTeen.
Thanks so much to: Simon & Schuster Audio, Disney-Hyperion, Elephant Rock Productions, Cinco Puntos Press, St. Martin's Griffin, and HarperTeen.
What's new in your mailbox?
Related Posts