Mailbox Monday is a weekly event where we share our latest book arrivals. Link up and find new mailboxes to stalk at the Mailbox Monday blog!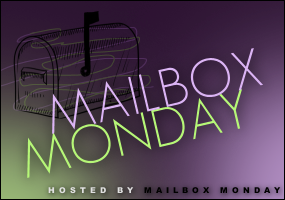 Here's my week in books:
Books in the Mail:
My Heart and Other Black Holes by Jasmine Warga – This is a YA Diversity Book Club pick, and it's about two teens with a suicide pact.
The Art of Being Normal by Lisa Williamson – This UK book is about friendship, love and gender issues and features a transgender protagonist.
The Strange and Beautiful Sorrows of Ava Lavender by Lesley Walton – This Morris nominee is about a girl who is born with wings who just wants to fit in. I'm reading this now and it's very unique, with lovely writing.
Review eBooks:
Kissing Ted Callahan (and Other Guys) by Amy Spalding – This book is about friends that make a pact to make something happen with their crushes. They document their progress in a shared notebook. Looks cute!
City Love by Susane Colasanti – This is about three girls spending their summer before college starts in NYC.
The Trouble with Destiny by Lauren Morrill – A drum major enters a cruise ship talent show to win $25k for her school band.
Leaving Amarillo by Caisey Quinn – The first book in a new NA series that centers around a country band.
An Appetite for Violets by Martine Bailey – This historical fiction book is about an under-cook in England who gets caught up in a murderous conspiracy. (Check out a giveaway!)
Where They Found Her by Kimberly McCreight – A new suspense novel from the author of Reconstructing Amelia.
Thanks so much to: HarperCollins, Candlewick Press, Little, Brown, Delacorte, William Morrow Paperbacks, and St. Martin's.
What's new in your mailbox?
Related Posts