Hi friends and royal watchers! Are you someone who can't get enough of Kate Middleton and Prince William and wish someone would write a romance inspired by the royal couple? Then this is the book for you!  Heather Cocks and Jessica Morgan (aka The Fug Girls) collaborated on their first adult novel THE ROYAL WE. This book is about an American girl at Oxford who happens to fall for a Prince.
I'm reading this book now and it's so fun and romantic. I'm falling hard for Nick & Bex (and Freddie) and I know you will too. The Royal We is the perfect read for contemporary romance fans and especially for the royally obsessed. Read on to find out more about the book and make sure to enter to win one of five copies!
About the book:
"I might be Cinderella today, but I dread who they'll think I am tomorrow. I guess it depends on what I do next."

American Rebecca Porter was never one for fairy tales. Her twin sister, Lacey, has always been the romantic who fantasized about glamour and royalty, fame and fortune. Yet it's Bex who seeks adventure at Oxford and finds herself living down the hall from Prince Nicholas, Great Britain's future king. And when Bex can't resist falling for Nick, the person behind the prince, it propels her into a world she did not expect to inhabit, under a spotlight she is not prepared to face.

Dating Nick immerses Bex in ritzy society, dazzling ski trips, and dinners at Kensington Palace with him and his charming, troublesome brother, Freddie. But the relationship also comes with unimaginable baggage: hysterical tabloids, Nick's sparkling and far more suitable ex-girlfriends, and a royal family whose private life is much thornier and more tragic than anyone on the outside knows. The pressures are almost too much to bear, as Bex struggles to reconcile the man she loves with the monarch he's fated to become.

Which is how she gets into trouble.

Now, on the eve of the wedding of the century, Bex is faced with whether everything she's sacrificed for love-her career, her home, her family, maybe even herself-will have been for nothing. – See more at: http://www.hachettebookgroup.com/titles/heather-cocks/the-royal-we/9781478903345/#sthash.E5KPkD7g.dpuf
The Royal We by Heather Cocks & Jessica Morgan
On Sale: April 7, 2015
Grand Central Publishing
Hardcover, 464 pages
Find the book: Goodreads * Amazon * B&N * IndieBound
Read the first 7 chapters for free:
Amazon * Barnes & Noble * Kobo * iBooks * Google Play
About The Authors: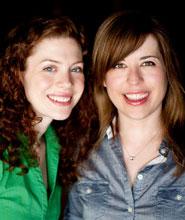 Heather Cocks and Jessica Morgan are the creators of the Internet's wittiest celebrity fashion blog, Go Fug Youself, which draws millions of readers and made Entertainment Weekly's Must List and The Guardian's list of 50 Most Powerful Blogs. They are the authors of two young adult fiction novels, Spoiled and Messy, and have written for publications ranging from New York Magazine's web site to VanityFair.com to Grazia UK. They both reside in Los Angeles.
Giveaway!
Ready to be royally impressed? My friends at Grand Central Publishing are generously offering copies of The Royal We to five (5) lucky readers. Giveaway is open to US residents age 18 and up and runs until March 24.
To enter, just fill out the rafflecopter below:
Related Posts