Mailbox Monday is a weekly event where we share our latest book arrivals. Link up and find new mailboxes to stalk at the Mailbox Monday blog!
Not much to say about this week- it went by in a flash! We are having a low-key Easter and trying to get over colds. Last week I said I lost my review writing mojo, and I managed to write three this week so yay. Hope you are all having a lovely weekend and doing something fun!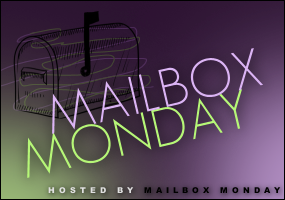 Books in the Mail:
An Ember in the Ashes by Sabaa Tahir – This is our April book club pick and it's a long book so I better get reading! The early reviews are quite good for this epic fantasy debut.
The Remedy by Suzanne Young – This is a prequel to The Program and it sounds awesome!
Review eBooks:
Alive by Chandler Baker – After a heart transplant, Stella has some very strange side effects.
Conviction by Kelly Loy Gilbert – This book deals with family, faith and baseball, and looks so good.
Flirting with Scandal by Chanel Cleeton – I liked Cleeton's International School series and this new series sounds great too. And maybe a little like the show Scandal!
What's new in your mailbox?
Related Posts