I'm so excited to feature author Courtney Summers and her stunning book ALL THE RAGE today! This is a heavy, raw book about rape culture that will make you feel all the rage. This unflinching read is a page-turner that I won't soon forget. Find out more about All the Rage, check out a Q&A with the author and enter to win a copy for yourself.
About the book:
The sheriff's son, Kellan Turner, is not the golden boy everyone thinks he is, and Romy Grey knows that for a fact. Because no one wants to believe a girl from the wrong side of town, the truth about him has cost her everything-friends, family, and her community. Branded a liar and bullied relentlessly by a group of kids she used to hang out with, Romy's only refuge is the diner where she works outside of town. No one knows her name or her past there; she can finally be anonymous. But when a girl with ties to both Romy and Kellan goes missing after a party, and news of him assaulting another girl in a town close by gets out, Romy must decide whether she wants to fight or carry the burden of knowing more girls could get hurt if she doesn't speak up. Nobody believed her the first time-and they certainly won't now-but the cost of her silence might be more than she can bear.

With a shocking conclusion and writing that will absolutely knock you out, All the Rage examines the shame and silence inflicted upon young women in a culture that refuses to protect them.
All the Rage is on sale now. Find it: Amazon | B&N | IndieBound | Goodreads
Please welcome author Courtney Summers to The Reading Date:
The topic of victim blaming and rape culture in All the Rage is very timely. Was there a particular event that inspired you to write this novel or was this idea bubbling around for a while?
All the Rage isn't inspired by a particular event—though several high profile rape cases occurred while I was writing it—but it is a response to rape culture, to victim blaming and to the lack of support available to victims and survivors of sexual violence. I have been working on it off and on since 2009/2010, but it didn't really begin to take shape until 2012-2013.
You recently created the #TotheGirls campaign that coincides with the release date of All the Rage. Can you talk a little bit about this and share any early positive responses / success stories?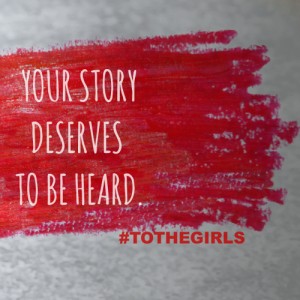 #ToTheGirls is a hashtag campaign where people are invited to share a message of support, positivity, and encouragement to girls everywhere across their social media platforms. It might have already happened by the time this interview goes up! I feel strongly that girls and their stories matter and this is one of the ways I want to express that. I think we should take and make every opportunity we can to empower young women. So far, the reception of the campaign has been incredible! People have really embraced. I'm looking forward to seeing what people share.
As the parent of a daughter I love that you write Feminist YA. What Feminist YA books should be on every Feminist's shelf?
Ooh, I love this question! And I'm going to cheat a little bit–while they are not YA, I definitely think feminist teen readers should have We Should All Be Feminists by Chimamanda Ngozi Adichie and Bad Feminist by Roxane Gay on their shelves. We Should All Be Feminist is a great launching point on the importance of feminism and Bad Feminist asks us to think about what feminism is and what it can be through personal essays. As for feminist YA novels, no shelf should be without: Pointe by Brandy Colbert, About a Girl by Sarah McCarry, Not Otherwise Specified by Hannah Moskowitz and Bone Gap by Laura Ruby.
Thanks for having me on your blog!
Thank you so much Courtney for your thoughtful answers! Congrats on the great success of the #TotheGirls campaign. I love your feminist book suggestions. 
About the Author:
Courtney Summers lives and writes in Canada, where she divides most of her time between a camera, a piano and a word processing program. She is also the author of What Goes Around, This is Not a Test, Fall for Anything, Some Girls Are, Cracked Up to Be, and Please Remain Calm. 
GIVEAWAY!
Enter to win a copy of All the Rage, courtesy of St. Martin's Griffin.
Giveaway is open to US entrants age 13 and up.
Related Posts