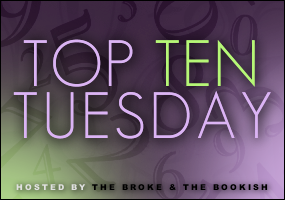 Top Ten Tuesday is an original feature from The Broke and the Bookish. This week is freebie week and I'm featuring the books I want to read before they hit the screen. Book adaptations are huge and since I prefer to read the book before seeing the movie I definitely have some catching up to do!
Here are the books I want to read before they hit the screen:
Me & Earl & The Dying Girl by Jesse Andrews – This upcoming film won the 2015 Sundance Grand Jury Prize and has some good early buzz. This is the story of Greg, a boy who is forced to spend time with Rachel, a girl with leukemia. Look for this one on June 12.
Paper Towns by John Green – I've still only read Green's The Fault in Our Stars so maybe I'll catch up with each movie release. This film stars Nat Wolff and Cara Delevingne. In theaters July 24
The Scorch Trials by James Dashner – I never read The Maze Runner though I really liked the movie so maybe I'll read this one while I wait for Sept. 18 to come around.
Dare Me by Megan Abbott – This author is double lucky- two of her books are getting the TV treatment. Dare Me is going to be an HBO series, and Fever is coming to MTV. Dare Me is a murder mystery set in the world of high school cheerleading.
The Martian by Andy Weir – This adaptation has star power and an A-list director in Ridley Scott. Mark Watley (Matt Damon) gets stranded on Mars after a dust storm hits and his crew takes off.  He has to find a way to survive and get a message back home. Look for The Martian on Nov. 25.
Miss Peregrine's Home for Peculiar Children by Ransom Riggs – My kid just read the first two books (and the graphic novel) back to back and insists that I read them too. The Tim Burton movie is filming now (called Miss Peregrine's Home for Peculiars) and eyeing a March 2016 release.
Luckiest Girl Alive by Jessica Knoll – This hot new mystery just hit shelves last week, and already Reece Witherspoon is on board to produce the movie version. This twisty story is about a girl with a perfect, glamorous job with a secret to protect that threatens everything.
The Price of Salt (Carol) by Patricia Highsmith – The film version is called Carol. Directed by Todd Haynes, this film stars Rooney Mara as Therese, a 1950s department store employee who falls for an older woman (Cate Blanchett). It just premiered at Cannes to rave reviews. Look for it to hit theaters in December.
Where'd You Go, Bernadette by Maria Semple – It was rumored earlier this year that Richard Linklater was in talks to direct this one. Hopefully that will happen! This epistolary novel is about a girl on a quest to find her unhinged mother.
Every Secret Thing by Laura Lippman – The film version just came out in limited release and has a great cast featuring Elizabeth Banks, Diane Lane and Dakota Fanning. The mystery crime story is about two teens fresh out of juvie for their crime of killing an infant, who are under the microscope when another child has gone missing. This sounds really unsettling actually!
What book adaptations do you have your eye on?
Related Posts