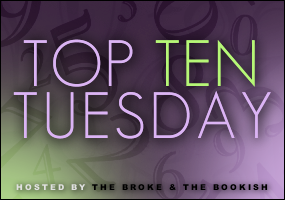 Top Ten Tuesday is an original feature from The Broke and the Bookish. This week we're counting down our top ten most anticipated releases for the rest of the year. There are so many books I left off the "Books I'm looking forward to in 2015" list so I'm glad to include them here. With this list I'm mostly sticking to authors I've read before, though I'll most likely include some new-to-me authors on next week's Summer TBR list.
Top Ten Most Anticipated Releases for the Rest of 2015:
Queen of Shadows (Throne of Glass #4) by Sarah J. Maas – On sale Sept. 1. I expect to see this one on a lot of lists this week! The publisher says, "This fourth volume will hold readers rapt as Celaena's story builds to a passionate, agonizing crescendo that might just shatter her world. "  Oh my!
Dark Wild Night (Wild Seasons #3) by Christina Lauren – On sale Sept. 15. I can't wait to read Lola and Oliver's story!
Library of Souls (Miss Peregrine's Peculiar Children #3) by Ransom Riggs – On sale Sept. 22. My teen is obsessed with these books and I've already preordered this one. I'm planning to read the first two books this summer to get ready for the final chapter.
I Crawl Through It by A.S. King – On sale Sept. 22. King's latest is "surrealist fiction" that "will mesmerize readers with its deeply affecting exploration of how we crawl through traumatic experience-and find the way out." I'm always up for a new King book and this one sounds intense.
Furiously Happy: A Funny Book about Horrible Things by Jenny Lawson – On sale Sept. 22. I adored Let's Pretend This Never Happened and look forward to more of Lawson's stories. In this book Lawson discusses her battle with mental illness, and is also about  "embracing joy in fantastic and outrageous ways."
Why Not Me? by Mindy Kaling – On sale Sept. 29. I am the biggest Mindy fangirl so of course I have already preordered this one. In this book she dishes on body image, friendships, work-life balance, and her relationship with B.J. Novak.
After You by Jojo Moyes – On sale Sept. 29. I still can't believe there is a sequel to Me Before You, but I am interested in reading more of Lou's story.
What We Left Behind by Robin Talley – On sale Oct. 27. I'm including the short Goodreads blurb here: "What We Left Behind follows a teen couple—Gretchen, who identifies as a lesbian, and Toni, who identifies as genderqueer—as they struggle to stay together during their first year in college, despite the growing rift caused by distance and Toni's shifting gender identity." There are not a lot of genderqueer characters in YA and I think this book will be important and informative.
Soundless by Richelle Mead – On sale Nov. 10. So excited for this new series from Mead! This new series is infused in Chinese folklore and is about a girl who lives in a silent mountain village. The starving villagers start to lose their sight as well, "but soon Fei is awoken in the night by a searing noise, and sound becomes her weapon." Sounds so intriguing!
November 9 by Colleen Hoover – On sale Nov. 10, lol. Ben's an aspiring novelist who is inspired by his one day in LA with Fallon. They meet on the same day every year and the line blurs between fact and fiction.
What books are on your list? Do we have any in common?
Related Posts