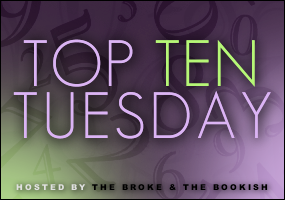 Top Ten Tuesday is an original feature from The Broke and the Bookish. I am definitely already in summer reading mode, how about you? Contemporary YA, romance and maybe a mystery or two are my favorite summer reads. I snuck a peek back at my Spring TBR list to see how I did and read only about half the books on the list, so we'll see if I can predict my reading preferences a little better this time. My reading mood is all over the place right now and I just couldn't narrow my choices down to ten, so fifteen it is!
These are the Top Ten books on my Summer TBR (make that 15)
The Last Summer at Chelsea Beach by Pam Jenoff – A love story set during World War II. July 28, Harlequin Mira.
A Window Opens by Elisabeth Egan – A mom of three gets a dream job but struggles to find balance in her life. Aug. 25, Simon & Schuster.
Ana of California by Andi Teran – A modern take on Anne of Green Gables… I'm going to try to read them back-to-back. June 30, Penguin.
Every Last Word by Tamara Ireland Stone–  I'm really interested to see how OCD is handled in this book- sounds like an emotional read! On sale now, Disney Hyperion.
Delicate Monsters by Stephanie Kuehn – This dark thriller is about three troubled teens whose lives intersect. On sale now, St. Martin's Griffin.
Paperweight by Meg Haston – Stevie is in treatment for an eating disorder and dealing with the grief and guilt of her brother's death. July 7,  Harper Teen.
Kitchens of the Great Midwest by J. Ryan Stradal – Eva is a hotshot chef and her life story is told by the different people in her life. July 28, Pamela Dorman Books/Penguin.
The Cake Therapist by Judith Fertig – This is what happens when you make a summer reading list when you're hungry! Neely is a pastry chef who can taste feelings and can customize her baked goods to her clients' personal life experiences. On sale now, Berkley/Penguin.
The Coincidence of Coconut Cake by Amy E. Reichert– My favorite flavor! This is a romance about a chef and a food critic. July 21, Gallery Books.
Play On by Michelle Smith – A baseball romance… screams summer to me! On sale now, Spencer Hill.
Most Likely to Succeed by Jennifer Echols– The last book in The Superlatives trilogy – Sawyer's story! August 4, Simon Pulse.
Dirty Thoughts by Megan Erickson  – A mechanic gets a second chance at love when a girl from the past reenters his life. On sale now, Avon Impulse.
First There Was Forever by Juliana Romano – This book looks so summery – it's about friendship, first love and first loss. On sale now, Dial/Penguin.
All We Have is Now by Lisa Schroeder – An asteroid is headed towards North America – how do you spend your final days? July 28, Scholastic.
The Sacred Lies of Minnow Bly by Stephanie Oakes – This dark YA is about a girl who escapes a cult and tries to live and trust again. Lots of good reviews for this one! On sale now, Dial/Penguin.
For more summer book ideas check out my Beach Reads and Summer Listening recs.
What's on your radar for Summer?
Related Posts