Mailbox Monday is a weekly event where we share our latest book arrivals. Link up and find new mailboxes to stalk at the Mailbox Monday blog. For my Comic-Con book haul, click here.
Here are the books that arrived this week:
The Secrets of Lake Road by Karen Katchur-A mother is hiding a secret about her high school boyfriend's drowning, but when another child goes missing, her daughter is on the verge of putting the pieces together.
Armada by Ernest Cline – I won a copy from the lovely Gone Pecan gals in their blogoversary giveaway. So thrilled to have this finally!
Digital review copies:
Pretty Girls by Karin Slaughter  – This standalone thriller is about two sisters.  Their other sister that has been missing for twenty years. And now, one of the sisters' husband is murdered – is there a connection?
Up From the Sea by Leza Lowitz – This YA novel-in-verse is about a teen survivor of the 2011 Japanese tsunami who is grieving for all he's lost and trying to help rebuild his town.
The Boy Most Likely To by Huntley Fitzpatrick – Receiving this one made my day! I love the companion novel My Life Next Door and I've already started reading this one.
Cloudwish by Fiona Wood – The tagline says "One wish, with a side of trouble." This coming-of-age book is about romance, culture identity and navigating high school and features two minor characters from Wood's Wildlife. 
Bounce by Noelle August – The final book in the Boomerang trilogy- this one takes place on a movie set.
The Bollywood Bride by Sonali Dev – I loved A Bollywood Affair and can't wait to read this new Bollywood story.
The Scorpion Rules by Erin Bow – This was a Netgalley Read Now and is described as a "new YA series set in post-environmental North America in the vein of Never Let Me Go. "
Peas and Carrots by Tanita S. Davis – There's not a full description yet for this one but "Peas & Carrots is described as a contemporary realistic young adult novel in which a white teen named Dess is placed into foster care with a black family while her mother is incarcerated."
Thanks so much to: St. Martin's Press, Gone Pecan, Penguin, Crown, Macmillan, Kensington, Simon & Schuster,
What's new in your mailbox?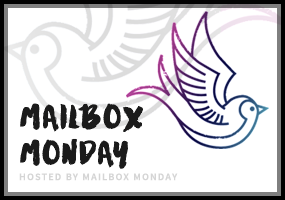 Related Posts