Hey, there's just about two week's until Rainbow Rowell's Carry On hits stores (and the anticipation is killing me!) Carry On is a standalone fantasy novel featuring two characters from Fangirl. In Fangirl, Cath wrote fan fiction about the Harry Potter-ish Simon Snow series and now her subjects have their own book! I love all of Rainbow's contemporary novels and this is her first foray into fantasy. I saw her speak at Comic-Con about all the blood, sweat and tears that went into Carry On and I'm eager to see how this story comes to life.
Here are some fun things to do to make the wait for Carry On a little bit easier:
1.Preorder Carry On and get prizes! The first 1000 to submit their Carry On preorder receipt will receive an Emergency Reading Party Kit! If you're read Fangirl you know all about Emergency Dance parties.
Click here to submit your Carry On preorder receipt and if you are one of the first 1000 you will receive all of these goodies:
2. Brush up on your Simon & Baz knowledge and re-read Fangirl! This edition has an exclusive excerpt from Carry On: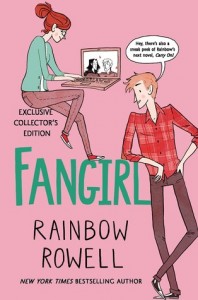 3. You can also check out a sneak peek from Carry On on My Kinda Book.
4. Make plans to see Rainbow on tour!
5. Follow Rainbow on Twitter for an exclusive look inside the book:
The interior illustrations are achingly good & I probably shouldn't show this one, but unnnnnnnnf. #CarryOn @jimmyct pic.twitter.com/vnhj4yVjjF

— Rainbow Rowell (@rainbowrowell) September 16, 2015
IS THAT A MERWOLF? (I think it's a merwolf.) #CarryOn pic.twitter.com/3NHBDY71jF

— Rainbow Rowell (@rainbowrowell) September 16, 2015
Carry On is our November YA Diversity Book Club selection, and one that was very easy for us to agree on. Stay tuned for news about our twitter chat as we get closer to November.
Are you excited for Carry On?
Related Posts