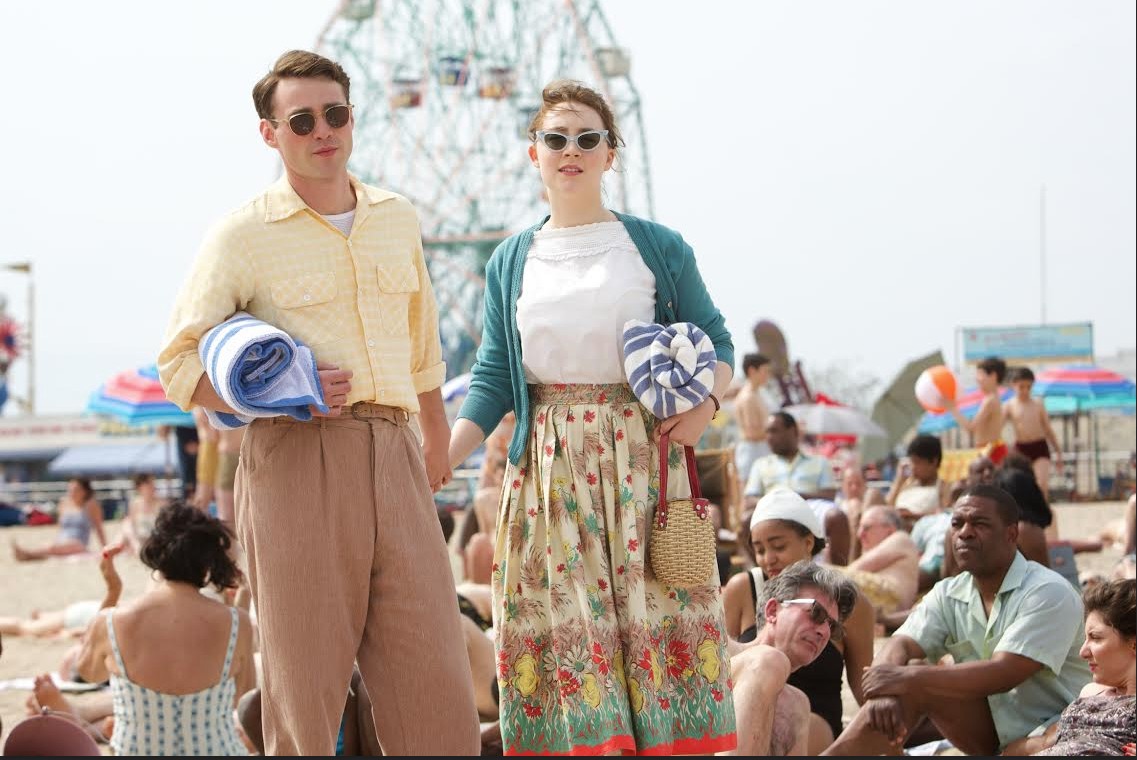 The Movie Date is a feature where we discuss movies that may appeal to the YA audience. Andrew is The Reading Date's resident movie critic but this week I'm stepping in to discuss a new film I think you're going to love. BROOKLYN is a Fox Searchlight film directed by John Crowley, screenplay by Nick Hornsby, and based on the book by Colm Tóibín.
In BROOKLYN, it's the 1950s and Eilis Lacey is a young woman torn between two countries and two loves. Eilis left Ireland for New York but circumstances have her questioning her decision. This romantic historical film is about the difficulties and heartache of leaving home for the first time and being open to new beginnings.
Eilis (pronounced Aye-lish) Lacey leaves her Ireland home, hopeful to find new experiences and opportunities in America. New York is home to many Irish immigrants and Eilis Lacey (Saoirse Ronan) is hoping to find better job prospects there. She lives in a Brooklyn boarding house and keeps busy by working as a shopgirl, taking a bookkeeping class, and attending Irish dances to socialize. But, at the same time she's terribly homesick for her sister and mother back home. When she meets Tony (Emory Cohen), a local Italian plumber, at one of the dances, she falls head over heels for him and starts to embrace her new surroundings.
But just when you get too comfortable life throws you a curveball. Circumstances force Eilis back home to Ireland, and there she starts to question where she belongs. Especially when a new guy, Jim Farrell, (Domhnall Gleeson) catches her eye. Will Eilis remain in the familiar Ireland or return to new possibilities in America?
BROOKLYN is a nostalgic, quiet film that captures the look and feel of '50s New York. The lighting and eye-catching costumes bring the time frame to life. The acting is top-notch across the board, led by the sublime Saoirse (pronounced Sersha) Ronan, who makes you feel Eilis' homesickness so much it's painful. She carries this film on her shoulders with ease. Emory Cohen is winning as the charming Tony; Julie Walters is hilarious as the boardinghouse owner, and Jim Broadbent plays the supportive priest that helps Eilis find her footing in New York.
I saw this film with my teen and we both loved it and have been thinking about it ever since. Brooklyn is perfect for fans of coming of age stories. And as our seatmate commented it will make you long for the time when you could afford to live in Brooklyn.
The Arclight movie theater employee who introduced Saoirse Ronan's Brooklyn butchered her name but hopefully Oscar voters will figure it out in time for award season.
BROOKLYN is now playing in select theaters. Keep an eye out for it!
Related Posts