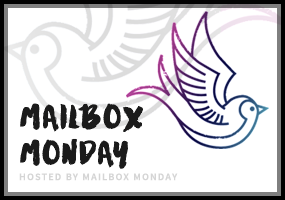 Mailbox Monday is a weekly event where we share our latest book arrivals. Link up and find new mailboxes to stalk at the Mailbox Monday blog.
I just received one book in my physical mailbox this week (for a giveaway- check back Thursday!) Otherwise it was an all-digital week. Here's my e-mailbox:
Girl Through Glass by Sari Wilson – In this coming of age/Fiction debut an aspiring young dancer navigates the competitive world of the New York City ballet.
The Violinist of Venice: A Story of Vivaldi by Alyssa Palombo – This historical fiction is about composer Vivaldi's love affair with his student Adriana d'Amato and how the end of the affair impacts their lives over time.
Flawed by Cecelia Ahern – This YA thriller is described as The Scarlet Letter meets Divergent. Rebellion is punished in this future that values obedience above all.
Saving Montgomery Sole by Mariko Tamaki – Montgomery doesn't seem to fit in in her small town, but manages to get through the day with a small group of friends and their Mystery Club. Gorgeous cover, right?
No Love Allowed by Kate Evangelista – This Swoon Reads book is about a guy looking for a new fake girlfriend, and the only rule is that she not fall in love with him.
Remembrance by Meg Cabot – Remember the YA Mediator series? This book is an adult installment of the story!
Thanks so much to: Harper, St. Martin's Griffin, and Macmillan Children's.
What's new in your mailbox?
Related Posts