Mailbox Monday is a weekly event where we share our latest book arrivals. Link up and find new mailboxes to stalk at the Mailbox Monday blog. Here are the books that made their way to me over the last couple weeks:
New Book Arrivals:
The Things we Keep by Sally Hepworth – A woman with early onset Alzheimer's and falls for someone at an assisted living facility.
Mistletoe and Mr. Right by Lyla Payne – This book includes two holiday novella romances- in Mistletoe and Mr. Right Jessica follows her boyfriend home to Ireland and things don't go as planned. In Sleigh Bells and Second Chances, Jessica's friend Christina spends the holidays working in London.
The Furies by Natalie Haynes – When Alex's fiancé is killed she moves away to get a fresh start and teaches Greek tragedies to troubled teens.
Allegiant Collector's Edition by Veronica Roth – This is a signed edition that I'm giving away here.
Hillary Rodham Clinton Presidential Playset by Caitlin Kuhwald – This foldout playset features White House locations, Hillary's friends and enemies, and some ghostly advisors.
eBooks:
His Whole Life by Elizabeth Hay – This coming-of-age is set in the mid-90s and is about family relationships with the backdrop of the second Quebec referendum.
Anything for You by Kristan Higgins – The final installment in the Blue Heron series! I haven't read this series, though I read something else by this author recently and wanted to read more of her work.
Review/Library Audiobooks:
Untamed by S.C. Stephens, read by R.D. Lindo – The fourth book in the Thoughtless series is Griffin's story.
This Way Home by Wes Moore, Shawn Goodman, read by J.D. Jackson – A basketball team gets tangled up with a local gang and tries to find their way out of a bad situation.
Year of Yes, written and read by Shonda Rhimes – The queen of TGIT (Grey's Anatomy, Scandal, How to Get Away with Murder) talks about how saying Yes for one year changed her life. I'm listening to this now and it's very inspirational!
The Bassoon King written and read by Rainn Wilson – I never really watched The Office, but I love humorous celebrity memoirs so I thought I'd give this one a try.
Thanks so much to: St. Martin's Press, Bloomsbury, HarperCollins, Quirk Books, Quercus, Harlequin Books and Hachette Audio.
What's new in your mailbox?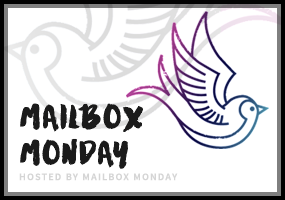 Related Posts