The Movie Date is a feature where we discuss movies that may appeal to the YA audience. Andrew is The Reading Date's resident movie critic and this week he discusses the final Hunger Games movie: Mockingjay Part Two, a Lionsgate film directed by Francis Lawrence, based on the book by Suzanne Collins.
Ten thoughts on the final Hunger Games movie:
Jennifer Lawrence is an amazing, committed, and professional actress. I'm used to seeing her as the glamorous yet ditzy, outspoken party girl, and the two David O. Russell roles she's done alongside the series closely echo that personality. I was frankly blown away to see her so intense and dialed-in with nary a glimpse of her goofy persona. She doesn't seem to wear any makeup through much of this film; another interesting glimpse behind the curtain. My point is that, having become a huge star while making such a series, another performer might have phoned in this performance ("I'm rich and I've got my Oscar"). Lawrence did not; in fact it might be her best overall. Girl on fire, indeed.
The series has become the story of a media icon. I realized that this isn't really the story of a warrior heroine but of a figurehead who becomes (to some degree) a pawn of the rebel leaders. She does very little fighting in these last two films (save for a pretty hairy underground fracas in which everyone's battling tooth and nail), instead deploying her bow and arrows for the camera.
This is no longer a game. As Katniss, Peeta, and Gale join Boggs' squad in the mostly evacuated Capitol, there are no more Games-type puzzles to solve. The entire city is rigged with invisible booby traps designed not for televised entertainment but to extinguish all passersby.
Peeta makes me cry. Everything about this film makes me cry but especially him. Of course you wind up hating him at first—the opening scene shows Katniss with badly bruised neck trying to regain her speech, all thanks to Mr. Mellark—but you realize that (as Katniss says often) he's not himself. He's so worn out from tracker-jacker venom and brainwashing he doesn't know truth from lies, and asks Katniss questions about their past that start with "real or not real?"
Even though this is the final battle, it's not really a war film. In the book I'd thought that Boggs' squad was somehow the front line of the rebellion or a special-ops team; not so. They're merely in the Capitol to shoot "propo" videos, though of course the Girl on Fire has her own agenda. (The actual invading forces are miles ahead of them.) There are few gun-on-gun encounters with the Peacekeeper forces; instead the conflicts are mostly with things non-human (enough said).
I've come to care about these characters quite a bit. Thanks to meticulous scripting, on the mission I had reason to care about all the members of Boggs' squad, and was genuinely devastated to see some of them not make it. Which carries over to Philip Seymour Hoffman's passing in real life. He's in this film quite a bit but vanishes near the end. In his absence, characters share Plutarch's thoughts by quoting his words; you can tell the cast is undergoing a quiet memorial right then and there.
After it ends, it keeps on going. Katniss' self-assigned mission is to find and execute Snow, but she doesn't get inside the Palace until the rebels have occupied and stabilized the city. She does finally get to confront President Snow face to face, but it goes differently than you might expect. From there the film continues; as Coin and the small gang of victors decide to punish the Capitol prisoners by making them do their own Hunger Games, I was thinking, "geez, how long is this movie gonna be?" The actual climax is both shocking and satisfying.
Buttercup finally has his moment in the sun. Prim's longstanding pet cat (and Katniss' nemesis), who's been carefully shown in the previous films, becomes a key player in perhaps the film's most emotional scene, causing a torrent of long-suppressed tears that made me want to unleash my own.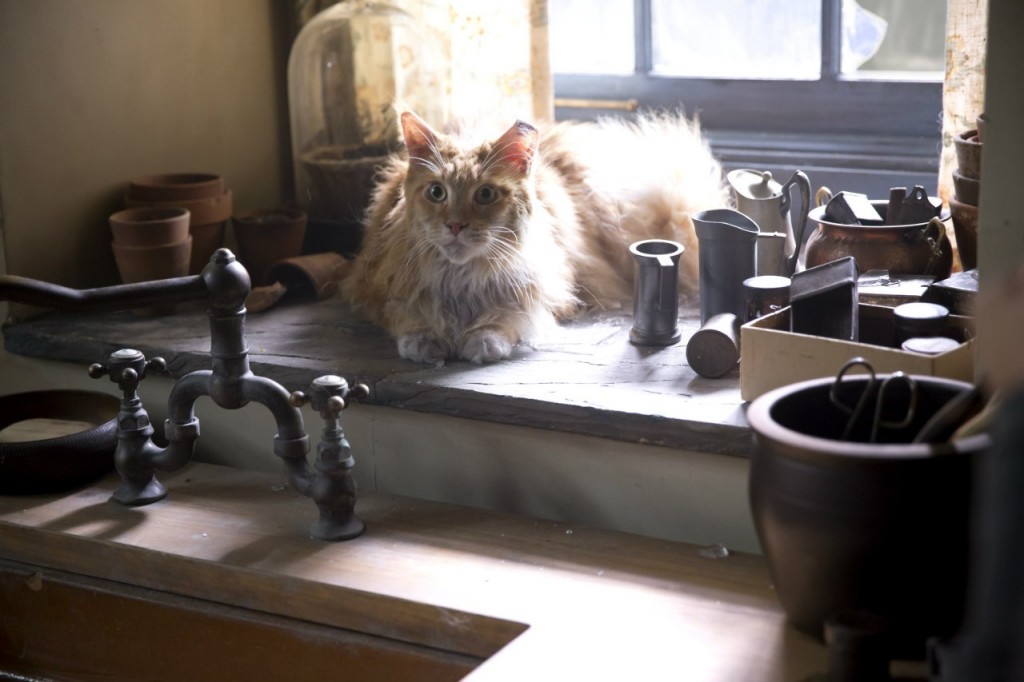 Katniss' hands will never be clean. A couple times in the film she starts blaming herself for everyone's deaths. It's easy to dismiss that—look at the millions she's helped liberate—but she does have a point. When the losses strike too close to home, she can lash out at the guilty but she knows she's also to blame.
I liked the ending much more in the movie than in the book. What really impresses me about the film and book series is that it's not an easy, black-and-white resolution; even a "happy" ending can be tragic. In the book's epilogue Katniss struck me as sullen and bored; here it's clear that she's just struggling to heal after having her soul torn apart. I wouldn't deny that to anyone.
Related Posts