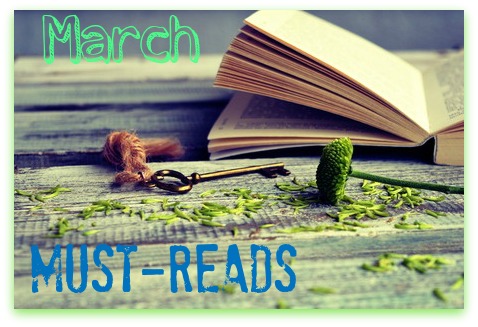 Happy March, lovelies! Here are the new release books I have my eye on this month:
YA:
The First Time She Drowned by Kerry Kletter – A teen tries to start over after spending the last two years in a mental institution. March 15, Philomel
In Real Life by Jessica Love – Hannah and Nick are online friends and Hannah decides to surprise him in person. But she finds out that Nick has been hiding some big secrets from her. March 1, St. Martin's Press.
The Girl Who Fell by Shannon M. Parker – This dark romance is about an abusive relationship. March 1, Simon Pulse.
Midnight Bites: Stories of the Morganville Vampires by Rachel Caine – This collection features all the various Morganville short stories in one place plus some new stories. March 1, NAL.
The Great American Whatever by Tim Federle – Quinn is a sixteen-year-old screenwriter hopeful who tries to find his own Hollywood happy ending. March 29, Simon & Schuster.
Burn Baby Burn by Meg Medina – This coming-of-age is set in turbulent 1977 New York and Nora's home life is taking her over the edge. March 8, Candlewick.
Exit, Pursued by a Bear by E.K. Johnston – A cheerleader struggles to regain control after a sexual assault. March 15, Dutton.
The Way I Used to Be by Amber Smith – This novel shows Eden's strength and recovery process during the four years after an assault. March 22, Margaret K. McElderry Books.
Fiction/Mystery/Fantasy:
Nowhere Girl by Susan Strecker – Cady's sister Savannah was murdered and the case is unsolved. Years later, Savannah is a popular suspense novelist and interviews killers to try to get some answers. March 1, Thomas Dunne Books.
Only Ever You by Rebecca Drake – Jill's three-year-old daughter goes missing at the playground, returned with a mysterious puncture wound. When she disappears again, the police focus their investigation on the parents. March 22, Thomas Dunne Books.
Innocents and Others by Dana Spiotta – This book about identity and redemption features two best friends who grow up in the 80s and became successful filmmakers. March 8, Scribner.
Borderline by Mishell Baker – Millie lost the use of her legs after a failed suicide attempt and gets recruited to join the Arcadia Project – an organization that polices the comings and goings of a supernatural parallel reality. March 1, Saga Press.
All Things Cease to Appear by Elizabeth Brundage – A man returns home to find his wife murdered and his three-year-old daughter alone in her room. He is a suspect but it will take more than twenty years for the truth to come out. March 8, Knoph.
Somewhere Out There by Amy Hatvany – Two sisters are separated when their mother gives them up. They grew up in very different circumstances and reunite 35 years later. March 8, Washington Square Press.
The Nest by Cynthia D'Aprix Sweeney – This multiple POV book is about a dysfunctional family and what money does to relationships. March 22, Ecco.
What is Yours is Not Yours by Helen Oyeyemi – This collection of intertwining stories features a key theme – "The key to a house, the key to a heart, the key to a secret—Oyeyemi's keys not only unlock elements of her characters' lives, they promise further labyrinths on the other side." March 8, Riverhead Books.
What will you be reading this month?
Related Posts