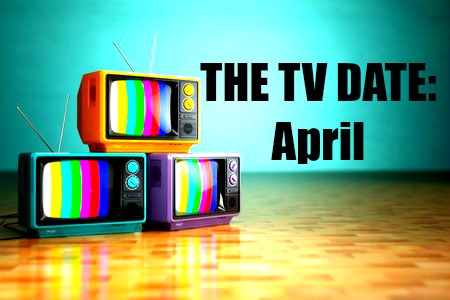 April has become a big TV month- there are so many new premieres I don't know if my DVR can handle it! A few of the TV shows are based on books, so read first if you like! Here are the ten April TV premieres I think are worth checking out:
April TV Premieres (in order of air date)
OUTLANDER (Season 2)
When: Airs April 9 on Starz. Watch it two days early if you have the new Starz app!
Season two follows book two in Diana Gabaldon's series: Dragonfly in Amber. Season one got a little intense for me and I have to admit I didn't stick with it. But, I'm familiar with book two and am ready to dive into it again.
MY MAD FAT DIARY (US Premiere)
When: All three seasons air April 9 on Hulu.
This is an awesome British series that is finally available here in the US! I've only watched season one so I'm so excited to catch up. It's based on the book of the same name by Rae Earl, and a new paperback tie-in hits shelves April 19.
THE GIRLFRIEND EXPERIENCE
When: This new 13-episode limited series airs April 10 on Starz.
This standalone story is based on the 2009 Steven Soderbergh film in name only, with Soderbergh taking the title and creating something new. It stars Riley Keough as Christine Reade, a Chicago law student turned call girl.
THE MINDY PROJECT (Season 4 Mid-Season)
When: Airs weekly beginning April 12 on Hulu.
Finally, Mindy is back after a long, extended break. Is she going to make it work with Danny?
ORPHAN BLACK (Season 4)
When: Airs April 14 on BBC America.
Last season lost me a bit with the Castor clones, but I like what I've seen so far in the season 4 trailers. Hopefully my favorites of Tatiana Maslany's clone characters have survived season 3!
UNBREAKABLE KIMMY SCHMIDT (Season 2)
When: Binge watch all episodes April 15 on Netflix.
They're alive dammit! The trailer looks like we are in for more fun and wacky adventures with the Kimmy gang. (And if you like Kimmy, you might also like these shows!)
CONFIRMATION
When:  This TV Movie airs April 16 on HBO.
Confirmation is about the 1991 Clarence Thomas Supreme Court nomination hearings, and Anita Hill's testimony against him. It was quite a media spectacle back in its day! Starring Kerry Washington as Anita Hill and Wendell Pierce as Clarence Thomas.
THE NIGHT MANAGER
When: This 6-part Miniseries airs April 19 on AMC.
This is a contemporary interpretation of John le Carré's spy novel of the same name. Starring Tom Hiddleston, Hugh Laurie and Olivia Colman. Yes, please!
GAME OF THRONES (Season 6)
When: Airs April 24 on HBO.
I must admit I only catch this show occasionally though everyone else in my household is obsessed and I imagine you are as well! The sixth season airs before the sixth novel (The Winds of Winter) lands so will the show spoil the book?
SILICON VALLEY (Season 3)
When: Airs April 24 on HBO.
This funny series is about a group of guys in a startup company trying to get their product off the ground.  I just re-watched the first two seasons with my teen and it is hilarious! What will the Pied Piper team get up to this season?
What's on your April viewing calendar? 
Related Posts