Last week I had the pleasure of attending San Diego Comic-Con for the ninth time! Now that I'm semi-recovered from this event I'm going to share a few highlights from the book, video game and TV side of things. First up, the books!
This year was a weird year for me personally because I did not attend any bookish panels or signings. I know! I went to the exhibit hall on Wednesday night during preview night and that was the only time I visited the publisher's booths. The crowds were giving me some anxiety this year so I chose to focus my energies outside of the exhibit hall. Plus, it was nice to hang out with the teen and Andrew to do stuff too. (The book stuff is not their thing) There are so many awesome book events at Comic-Con now that you could entirely focus your entire trip on that. It's a treasure trove for fans of graphic novels, comics, science fiction and fantasy. So, while I didn't get to dive into the books too much this year I'm excited to expand my reading horizons with some of the books I acquired:
Comic-Con 2016 Books I Picked up on Preview Night
Vassa in the Night by Sarah Porter – This Brooklyn-set fairytale is inspired by the Russian folktale Vassilissa the Beautiful. On sale Sept. 20 from Tor Teen.
Ninth City Burning by J. Patrick Black – Set in a post-apocalyptic Earth, 500 years after aliens took over, Earth's defenders are fighting back. On sale Sept. 6 from Ace.
The Bear and the Nightingale by Katherine Arden – This debut is also inspired by Russian fairy tales. (new trend alert!) On sale January 17 from Del Rey.
Curious Minds by Janet Evanovich and Phoef Sutton – The first book in the Knight and Moon mystery series is about Riley Moon and Emerson Knight who team up to solve a murder mystery set in the financial world  On sale August 16 from Bantam Dell.
Last Seen Leaving by Caleb Roehrig – Flynn's girlfriend is missing and he is the prime suspect. He tries to solve the mystery while facing some of his own hidden truths. On sale October 4 from Feiwel & Friends.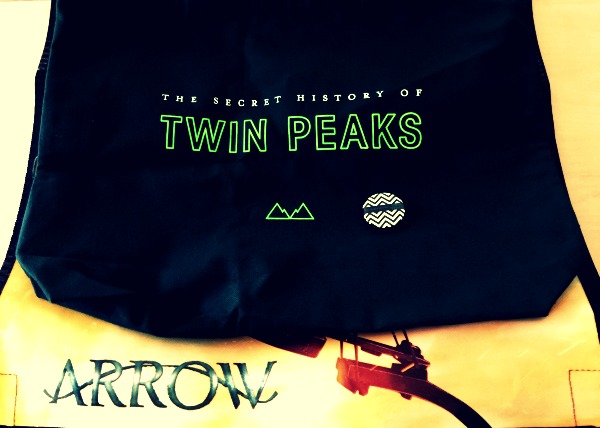 The Secret History of Twin Peaks by Mark Frost tote bag – As a big fan of Twin Peaks I'm very interested in reading this book to gear up for the Showtime series next year. No, they weren't giving away the books – just the tote and some cool pins.
And an Arrow 2016 Comic-Con Swag Bag to carry my book stack.
Like I said, I didn't attend any book panels this year- but these were the panels on my radar:
Sarah J. Maas was a Special Guest and had her own panel. I couldn't find a video of the panel but hopefully one will pop up. She made some exciting announcements lately so I'm sure that was part of the conversation.
The What's Hot in YA Fiction panel featured authors  Renee Ahdieh (The Wrath and the Dawn series), Victoria Aveyard (The Red Queen series), Michelle Hodkin (The Mara Dyer Trilogy), Lauren Oliver (Vanishing Girls), Brendan Reichs (Virals series), Victoria Schwab (A Darker Shade of Magic), Laini Taylor (Strange the Dreamer), and Adam Silvera (More Happy Than Not).
Noelle Stevenson (author of Nimona and co-creator of Lumberjanes) was a Special guest and "chatted with Shannon Watters (Lumberjanes) about comics, cartoons, heroes, villains, queer teens, free will, first crushes, and probably more than a few tangents about mountaineering and extinct animals." I picked up Nimona and Lumberjanes this summer and would have loved to see this panel and the "Camp Out with Lumberjanes" panel. Alas, the timing didn't work out!
The Creating Diverse Worlds and Cultures panel featured authors Stacey Lee (Outrun the Moon),Indra Das (The Devourers), Damian Duffy and John Jennings (Kindred: A Graphic Novel Adaptation), Elizabeth Briggs (Future Shock), and Ru Xu (NewsPrints) "to talk about how they developed inclusive futures (and presents and pasts)."
The Reading Without Walls panel featured Gene Luen Yang in conversation with Hank Green. "Reading Without Walls encourages people to read outside their comfort zone, exploring books in subjects, formats, and audiences they don't typically gravitate to and thereby discovering new (and awesome) things."
My teen loves the Miss Peregrine books so we wanted to check out the I Read it Before (And After) It Was a Movie panel to see these authors talk about their journey from page to screen: Ransom Riggs (Tales of the Peculiar), James Dashner (The Maze Runner), Melissa de la Cruz (The Isle of the Lost: A Descendants Prequel), Scott Westerfeld (Uglies, Zeroes), Ben H. Winters(Underground Airlines), and Comic-Con special guest Peter David. We slept in instead of seeing this panel though- Friday was a long day!
I was bummed to miss some of these bookish happenings but hopefully I'll get to go again next year!
Stay tuned for news on the video game and TV panels I attended.
Related Posts