Hey, it's Readathon time! The Dewey's 24-Hour Readathon kicks off in just a few hours. Are you ready? In this readathon you read as much as you like for 24 hours, cheer each other on, and participate in fun challenges. You can sign up and read all about the event here.
This year I'm participating as a reader, and for the first time ever I'm also hosting a mini-challenge. So, if you're still going strong at hour 16 make sure to check back here then for the Frightful Reads challenge!
The Readathon start time in my neck of the woods is 5am – oof! I may start at midnight instead and then pick up again later in the morning.
I've been in a little reading slump lately so I pulled together a variety of books to choose from this readathon. Here are some of my TBR options: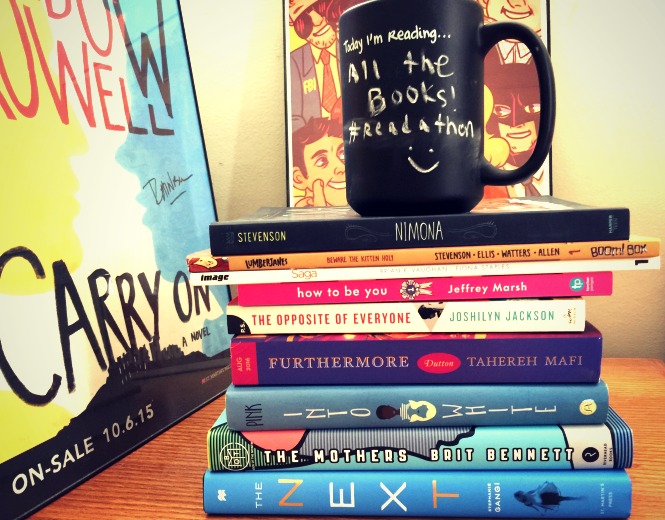 There's some graphic novels, fiction,  middle grade, and non-fiction so hopefully one of these books will help me get my reading mojo back!
I also have eb00k and audiobook options:
Current ebook read: The Goal
Current audiobook listen: The Twelve Days of Dash & Lily and Nimona (I can listen along with the book!)
I'll be out and about during parts of the readathon but will have a book/ebook/audiobook on hand to maximize my reading time.
Happy Readathon everyone! 
Related Posts