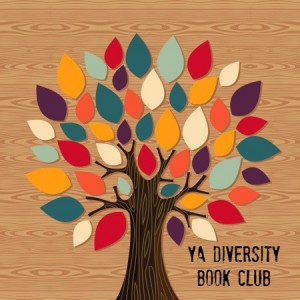 In the YA Diversity Book Club, we chat about the latest YA books that celebrate diversity. Our book club includes Sandie @ Teen Lit Rocks, Kristan @ We Heart YA and Kristina @ Gone Pecan. Each month we'll focus on one book with a book review (our discussion chat) and an author Q&A plus some fun bonus features.
Our October book club pick is LIES WE TELL OURSELVES by Robin Talley. Lies We Tell Ourselves deals with school desegregation in 1959 Virginia, and is from the point of view of two teen girls, one black and one white. This emotional historical read makes you angry, sad, uncomfortable and ultimately hopeful. The LGBT element adds another interesting layer to the story. The book is totally engrossing and well worth your time but a tough read as well.  I'm happy to share a Q&A with the author today. Robin Talley talks about the inspiration for the story, and has some great diverse recs for us. Thank you to Harlequin Teen for providing us with review copies of Lies We Tell Ourselves and to Robin Talley for graciously answering our questions.
About Lies We Tell Ourselves:
Lies We Tell Ourselves by Robin Talley, Hardcover, 384 pages, Harlequin Teen, September 30, 2014.
Goodreads * Amazon * Barnes & Noble * IndieBound
In 1959 Virginia, the lives of two girls on opposite sides of the battle for civil rights will be changed forever.

Sarah Dunbar is one of the first black students to attend the previously all-white Jefferson High School. An honors student at her old school, she is put into remedial classes, spit on and tormented daily.

Linda Hairston is the daughter of one of the town's most vocal opponents of school integration. She has been taught all her life that the races should be kept "separate but equal."

Forced to work together on a school project, Sarah and Linda must confront harsh truths about race, power and how they really feel about one another.

Boldly realistic and emotionally compelling, Lies We Tell Ourselves is a brave and stunning novel about finding truth amid the lies, and finding your voice even when others are determined to silence it.
And now I'm very pleased to welcome author Robin Talley:
Describe your book in a sentence or two.
In 1959 Virginia, two girls ― one black, one white ― fall in love in the middle of the school integration crisis.
What was your inspiration for writing LIES WE TELL OURSELVES?
My parents were both in high school when their schools were integrated in the early 1960s in Virginia. One day, they were telling me stories about their memories of that time, and I realized I wanted to read a YA novel set against that backdrop. Then I wondered what it would've been like to be on the front lines of a major social justice battle like that ― and to be gay, too. Except it was 1959, which meant gay teenagers were pretty much all closeted and battling some MAJOR self-loathing. Just thinking about what that might've been like was overwhelming and terrifying. I knew I had to try to write that story.
What kind of research did you have to do to make sure your characters were authentic?
I spent three months doing research before I ever sat down to start writing LIES WE TELL OURSELVES. It was a huge project to take on, both because I wanted to be true to the characters' experiences, and because I simply didn't know very much about the school integration movement, especially as it played out from day to day in Virginia. I consumed as many primary sources as I could get my hands on, including newspaper articles, oral histories, and, most of all, memoirs from black students who integrated all-white schools. I also poured over old yearbooks from both black and white high schools from this era, learning everything I could about what it was like to be a teenager in a time when racial inequality was a fact of life ― and when no one would even consider taking seriously such an idea as women's rights, much less LGBT equality.
Nothing matched hearing and reading the stories of the heroes of the civil rights movement who served on the front lines of the school desegregation battles, though. The stories were incredibly disturbing, but I'm so glad those former students had the courage to tell them. Not to mention to live them.
How did you come to incorporate the diverse elements in your book?
For this book, racial and sexual diversity were inherent to the concept from square one. I did make a conscious effort to include socioeconomic diversity as well, though. In mid-century central Virginia, a small town like the one in LIES WE TELL OURSELVES would've included a blend of people who owned farms, people who worked on other people's farms, people who worked in white-collar jobs, people who worked in service jobs, and others. Their kids all would've gone to the public high school together, and everyone would've immediately been able to tell who was who from their clothes and from what they already knew about each other's families. I wanted my cast of characters to reflect that class diversity, although both of my protagonists came from middle-class families.
How does the diversity in your book relate to your life?
Well, I'm gay, first of all, like the main characters of my book (although their sexual orientations are never actually specified in the text; they might be bisexual or questioning). I also work in the social justice movement. I've never done anything that remotely approaches the level of what Sarah does for the movement in LIES WE TELL OURSELVES, but I've spent my career working for nonprofit organizations that are fighting for civil rights and equality for all. It's wonderful, being surrounded by people who are passionate about and working toward a better future for everyone.
What are some of your favorite YA books about diverse characters?
Oh, there are so many! I'm going to limit my list to books published in the past three years, but it's still going to be a LONG list: Love is the Drug by Alaya Dawn Johnson, Far From You by Tess Sharpe, I Am J by Cris Beam, The Fire Wish by Amber Lough, The Only Thing to Fear by Caroline Richmond, The Miseducation of Cameron Post by Emily Danforth, Aristotle and Dante Discover the Secrets of the Universe by Benjamin Alire Saenz, Eleanor & Park by Rainbow Rowell, Ask the Passengers by A.S. King, Adaptation by Malinda Lo, Two Boys Kissing by David Levithan, The Story of Owen by E.K. Johnston, Rapture Practice by Aaron Hartzler, Otherbound by Corinne Duyvis, Orleans by Sherri Smith, and so many more…
What areas of diversity do you want to draw attention to or do you feel are underrepresented in books?
I'd love to see more books set in places other than the United States, especially featuring characters whose first language isn't English. We're seeing more and more of these lately ― some of the books above, for example, like The Fire Wish, plus books like Lindsay Smith's Sekret series and Sara Farizan's If You Could Be Mine.
About the Author:
Robin Talley grew up in Roanoke, Virginia, writing terrible teen poetry and riding a desegregation bus to the school across town. A Lambda Literary Fellow, Robin lives in Washington, D.C., with her wife, plus an antisocial cat and a goofy hound dog. When Robin's not writing, she's often planning communication strategies at organizations fighting for equal rights and social justice. You can find her on the web at www.robintalley.com or on Twitter at @robin_talley.
Be sure to check out all the Book Club features:
Our November book club pick is Tell Me Again How a Crush Should Feel by Sara Farizan. Read along with us!
Related Posts