Today I am pleased to welcome author Jessica Park to the blog. Jessica is the lovely and witty author of Flat-Out Love and today she has graciously agreed to share her writing tips and tricks with us.
Be sure to check out my review and giveaway post today for your chance to win your own copy of Flat-Out Love.
Take it away, Jessica:
I'm so happy to be here on The Reading Date today! Lucy asked me to talk a little bit about my writing quirks, any tips I might have for aspiring writers, and to offer a few tricks for when you get stuck. (Thank you so much for having me, Lucy!)
TIPS: When I write, I almost always start with an outline. Not every writer does this, but it's really important to me to know where I'm going. Understanding the point of the story and the end of the story helps me write the beginning. It helps me develop characters in the right way to know what's going to happen to them later. An outline can also really help you from writing yourself into a corner that you can't get out of. Undoing a mistake will have a hideous ripple effect, and you can save yourself a lot of aggravation by planning ahead. That being said, I strongly recommend that you listen to your gut and feel free to change plot plans as you go along. I have cut plenty of scenes because when I got to that point in the outline, I saw that character X would never do action Y or whatever. So listen to your characters and trust your instincts.
Don't try to write like someone else. Let's say that you just finished reading a fantastic book by a gifted writer. You loved the book. You think, I want to write a book like this! In this style! I will be tremendously successful! That's a terrible idea. Trying to copy another author's style will end is disaster. You have to write like you. There are lots of writers who I completely admire, each with a tremendous talent. But I don't write like they do, and I will never be able to. For instance, I loathe (and suck at) flowing and enticing descriptions of landscape and architecture. That's okay. I don't have to write about that stuff. I know what do well, and I stick with that. I am a straightforward writer: simple and clear, without elaborate, wordy sentences. There is nothing wrong with that. And I know what my strengths are: I'm great with dialogue, humor, and character development. It's okay to love other writing styles and write in completely the opposite manner.
My last tip: Don't pay attention to genre rules. Okay, yes, if you're writing a murder mystery then someone needs to, you know, be murdered. But generally speaking, I
encourage people to trust themselves and not feel obligated to include certain elements in their story because they feel like they have to. My book RELATIVELY FAMOUS is about a teen girl, Dani, who spends the summer in California with her newly-discovered, B-list actor father. Not only does she have to figure out her relationship with her dad, but she is also learning to navigate a new social scene. It was an obvious choice to throw in a bunch of mean girls… Have a few nasty incidents, a little hazing, jealousy, etc. But that just bored me. It had been done to death, and it wasn't needed for me to tell the story that I wanted to. So I left all those awful girls out of the book. Ditto with Flat-Out Love. Having an eighteen-year-old heroine is not at all typical of YA books. Did I listen? No. I wanted her that age because it is integral to the story, and so I did it. And I don't have any regrets. (Can you hear me blowing a raspberry right now? 'Cause I am. And it's a big one.)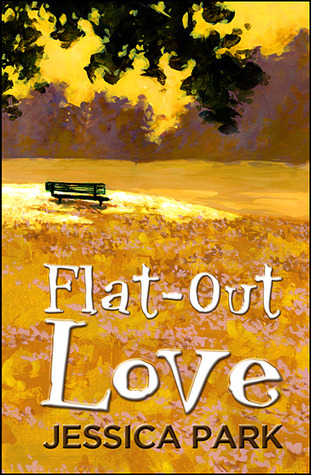 So listen to yourself: don't write what you don't want to.
QUIRKS: I don't write at a desk. On rare occasions, I might sit at the dining room table, but the vast majority of my writing time is spent sitting up in bed with the computer on my lap. It's not glamorous, but welcome to the world of writing. Practically speaking, my bedroom is the coolest spot in the house in the summer and the warmest in the winter, so that's a good excuse for writing there. But writing while propped up on comfy pillows is just nice, and there is a false sense of casualness that lets me pretend that I'm not "working." I'm just hanging out. Sometimes I have the TV on in the background, usually muted.
TRICKS: So you're trying to write something and you're totally stuck? No ideas? The wrong mood? Just a blah day? When I'm working on a book, I don't write every day. Some people will advise you to set aside designated writing time every single day, and that does really work for some people. For me, I just have days where it's not going to happen. I'm just totally in the wrong mood, and I could waste four hours writing one dreadful page. It's not worth the agony. Take a day off if you need to. Come back to it.
Other times, I'll know exactly what a scene should be like, I have the plot planned out, I know everything that needs to be done, but…. Something is off. I can't get the mood and the feel of it. iTunes to the rescue! Nothing helps me write scenes, especially the "big" scenes, the really emotional ones, more than music. I've got a page on my website with what I call "chapter tidbits," and I included some of the songs that I listened to when writing particular chapters. For me, finding the right song can get me in the perfect emotional frame of mind.
Thanks so much to Jessica for sharing her writing tips, tricks and quirks with us on the blog tour. I know I learned a few things. Writing in bed definitely sounds like a cozy workplace! Be sure to check out Jessica's next stop on the Flat-Out Love Blog tour tomorrow at reut reads.
To find out more about Jessica, check out her blog, facebook, and twitter.
Related Posts