The Movie Date is a weekly feature where we discuss movies that may appeal to the YA audience. Andrew is The Reading Date's resident movie critic and this week he's counting down the movies he wants to see before the new year, and the ones he's not too sure about. Andrew & I (Lucy) don't always agree on what movies to see, but I marked with a * the movies I hope we can see together.

11/9 – Lincoln
I actually wasn't that interested in this—more of a "should" than "want" to see—until I discovered the storyline: Near the end of the Civil War, Lincoln races to abolish slavery, knowing the amendment won't pass once the South rejoins the union and votes it down. Always a fan of the ticking clock. Also, Sally Field brings some drive and pathos to the mad Mary Todd Lincoln. I missed Abe killing zombies earlier this year so I hope this will suffice.
11/21 – Silver Linings Playbook*
This just has "win" stamped all over it. Bradley Cooper as a nice guy recently released from an institution and living with his parents? The mighty Jennifer Lawrence getting to do comedy as an equally medicated mystery woman? Currently 8.2 on IMDb? Hells YEAH. This is being sold as a comedy but you know that there's gonna be plenty of heartache and getting real in there too.
11/30 – Killing Them Softly
Brad Pitt stars as "Jackie Cogan … a professional enforcer who investigates a heist that went down during a mob-protected poker game." (IMDb) I'm secretly a Pitt fan since Twelve Monkeys and Fight Club and he tends to choose pretty good projects. And I'm all over genre tropes like heists and card games. If this is any good it's gonna be great.
12/7 – Deadfall
Eric Bana and Olivia Wilde as siblings on the run after a casino heist in the frozen north, after which they take part in some sort of "family reunion" with other characters. Unlike Kiling Them Softly above, I don't think this will be an action pic or thriller, rather an indie with some action beats. The willowy but wise Wilde is the draw here.
12/14 – The Hobbit: An Unexpected Journey
In the Lord of the Rings trilogy, Peter Jackson crammed three long books into three four-hour movies (looking at the extended editions), which seemed just about right. Here he's expanding one book with a pretty simple storyline into three films, and I fear this may be glacially paced with a lot of unnecessary detail and subplots. Still, like millions of other movie and book fans, I'm dying to sign on for another tour of Middle Earth with Jackson at the helm. More than anything, though, I'm in it to watch the hilarious and talented Martin Freeman (BBC's Sherlock) as Bilbo. Lead on!
12/19 – Zero Dark Thirty*
Out of everything on this list, this is probably the one I'm most looking forward to. First, it's based on the true story of the hunt for and killing of Bin Laden, so there should be some astounding espionage on display. Second, it's directed by The Hurt Locker's Kathryn Bigelow, who also gave us Point Break and Near Dark; nuff said. Third, it stars the talented Jessica Chastain (Take Shelter) as a woman somehow involved in the operation. Can't wait for this one.
12/21 – The Impossible
An American family is separated during the Indian Ocean tsunami of 2004 and struggles to reunite. The core story sounds uplifting and positive, and the simulation of the disaster will doubtless be incredible. But surrounding our survivors will be a huge amount of tragedy and loss, making this a challenging film to watch. Frankly more of a "should" than a "can't wait," but sometimes emotional purging can be good during the holidays.
12/21 – On the Road*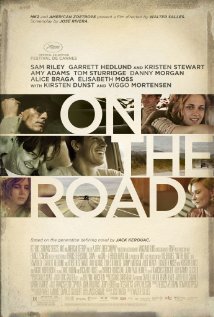 Incredibly, this is the first screen adaptation of Kerouac's Great American Novel (which I've never read) of a gang of Fifties hipsters searching for themselves on the highways and byways. Not fabulously reviewed, said to be a bit stoic and dull, but I'm still curious due to the novel's revered status. Also for the presence of Kristen Stewart, a fascinating actress with great energy when she gets the right material, as in The Runaways.
12/25 – Les Miserables
Again, I know virtually nothing about the book, story (someone steals bread, French peasants revolt), or musical, only the title's status as an icon of musical theatre. But again, I've always been curious about it and Anne Hathaway and Hugh Jackman look like they're giving it their all (which is a lot). Also compelled to see this on behalf of a musical-theatre fan friend who passed away this year and would have loved it.
12/25 – Django Unchained
Of course I've seen all of Quentin Tarantino's movies—it's not hard to do, since there are only seven of them—but I'm more of an appreciator than a hardcore fan. Often the obtrusive style and frequent in-jokes take me out of the narrative flow. But this one, a Civil War/Western hybrid, has a great story hook: a rescued slave is persuaded to become a badass bounty hunter by the hope of reuniting with his kidnapped love. Sounds like great primal/mythic story material able to shine thru the Tarantino trappings.
Not sure about:
Life of Pi
I can see how the core idea of this story—shipwrecked Indian boy awkwardly shares a lifeboat with a Bengal tiger—could make for fascinating reading. It offers many opportunities for reflection, philosophizing, and rhapsodic descriptive prose. The whole thing seems like a nifty little parable of some sort. On screen, though, it all seems so… literal. I honestly can't picture myself sitting through this. (On the other hand I loved 127 Hours, another "ordeal" film, so you never know.)
Hitchcock
This is more of a "wait and see" rather than a slam-dunk for me, but very curious about this. Sir Anthony Hopkins playing the genius British director and Helen Mirren as his wife. All about the making of Psycho, also with Scarlet Johansson, Jessica Biel, etc. Oddly this emerges almost simultaneously with the HBO film The Girl, about Hitch's infatuation with Tippi Hedren while making The Birds.
Rise of the Guardians
I haven't watched a trailer so I don't know the tone. But a film about childhood mythological characters—Santa, Jack Frost, the Bogeyman—that tries to take them seriously just seems silly.
Jack Reacher
I actually like Tom Cruise quite a bit. And I'm sure the Lee Child thriller novel franchise is all well and good. But Reacher is an ex-military drifter who solves and/or avenges crimes. That just sounds like a lot of guns to me.
The Twilight Saga – Breaking Dawn Part 2*
Please don't hate me, YA enthusiasts, but I'm not a fan of the Twilight film franchise overall (and as you might guess, I've never read the books). I actually thought the first film was superb—nice compact story, and Catherine Hardwicke nailed the sweet, gently magical tone perfectly. The next two films I didn't much care for, and I haven't even seen Breaking Dawn, Part 1: I just don't feel like I should be present at Edward and Bella's wedding night, nor at the birth of their child, especially as both appear quite messy. And in Part 2, the idea of a rapidly growing Renesmee being imprinted on by Jacob just seems kind of twisted. I hope it's good and a worthy conclusion to this groundbreaking franchise. Let me know… (Lucy's note: obviously I'm a fan but we agree to disagree on this series :))
What movies will you venture out to see this holiday season?
Related Posts