Hello friends! I am so happy to welcome author Lyla Payne here today with a bonus post for the Mistletoe and Mr. Right blog tour. She's here to share her favorite romances from holiday films. Maybe you'll find a new favorite! Mistletoe and Mr. Right is a romantic New Adult holiday read that's on sale now. Read more about it below and enter a festive giveaway from our friends at Bloomsbury! Take it away, Lyla:
Top 10 Holiday Movie Romances by Lyla Payne
Mary and George (It's a Wonderful Life): This is my all-time favorite movie, not just Christmas movie, but it took me a long time to come to terms with Mary and George's love story. When I was younger, I hated the fact that he wanted to get away and see the world but she actively wished for his dreams to NOT come true – all while claiming to love him! As I get older, I realize that sometimes the people who love us the most also see us the most clearly, and as George and Mary's visions for the future slip into alignment at the end of the film, we know George wouldn't be happy anywhere else.
Jamie and Aurelia (Love Actually): Jamie, the struggling, lonely writer slowly falls in love with his Portuguese housekeeper in the days leading up to Christmas. It's impossible not to adore the story of the guy who falls in love when he's least expecting it, and if you can watch the last scene, where he tries out the Portuguese he's learned for her, without grinning like and idiot then I don't know what's wrong with you. Have some more eggnog, maybe.
Amanda and Graham (The Holiday): Jude Law. That's pretty much all I need to say, but I can say more. I'm not the biggest Cameron Diaz fan, but as we watch her romance with Jude Law deepen enough for him to let her in to his shattered, fragile life (including his two young daughters), my Grinch heart grows two million sizes.
Wendy and Adam (A Christmas Kiss): This is one of my favorite made-for-tv Christmas movies, mostly because of the slow burn of the romance between the main characters. It's predictable, it's cheesy, the guy is totally clueless, but the lovers have some serious chemistry that leaves you unable to root against them from beginning to end.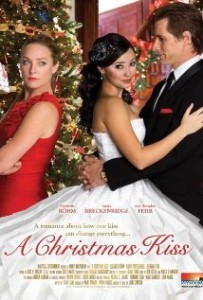 Kate and Miles (12 Dates of Christmas): This one IS my favorite made-for-tv Christmas movie, due in no small part to the presence and performance of Zack Morris – er, Mark Paul Gosselear. The best thing about this film is the realism of both main characters. They have major flaws, huge hangups, and bungle their way along getting to know each other – but thanks to a little Groundhog Day-esque Christmas magic, the two of them will get their happily-ever-after. This one is super sweet, and adorable, and funny, and oh-so-perfect.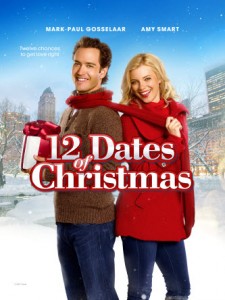 Julie and Everett (The Family Stone): This movie, y'all. Heart wrenching in the most exquisitely beautiful way possible. More than romance, it's about family, which always gets me in the feels. The cast is amazing, and the unexpected romance between Claire Danes and Dermot Mulroney plays the perfect compliment to the rest of the subtle but touching story.
(I couldn't find any gifs of Claire Danes from The Family Stone, but please enjoy Rachel McAdams!)
Bob and Betty (White Christmas): Classic movie, classic Christmas, classic slow-burn romance. If you haven't seen White Christmas you'll need to rectify this immediately – if you're not into romance, the singing of Bing Crosby and Danny Kaye will make you believe. Bonus: The song "Sisters" will be stuck in your head for days.
Bridget Jones and Mark Darcy (Bridget Jones' Diary): I don't know if this is technically a Christmas movie, but it takes place around Christmas, so I'm counting it. Bridget is one of my favorite characters ever, Mark Darcy is super swoony (thanks in part to the dashing Colin Firth), and watching the two of them bumble their way to romance is sure to sweeten anyone's holiday.
Lucy and Jack (While You Were Sleeping): Another possible fudge as far as a Christmas movie, but it has a Christmas tree, so whatever. This movie is nothing short of adorable, and main character Lucy is the woman we all feel a little bit like at least sometimes in our lives – a hot mess, with no end in sight and no expectation that anyone could possibly love us just as we are. She's wrong about that…and about which brother is right for her. Charming.
The Prime Minister and Natalie (Love Actually): First things first: anytime you watch a Hugh Grant movie, you must conveniently forget how skeezy the man is in real life. If you do that, you're free to fall in love with his awkward attempts at wooing his slightly pudgy assistant even before the scene at the end, which takes place at a children's Christmas play. The adorable factor is super high with this one.
Thanks for sharing your favorite holiday romances, Lyla! While You Were Sleeping is one I watch every year and I need to check out some of the rest of these!
About the Book:
In Mistletoe and Mr Right, Jessica takes a flying leap and follows her boyfriend home for the holidays for Christmas break, sure that Ireland will provide the perfect backdrop to the beginning of their happily ever after. But it turns out his family – and his gorgeous ex-girlfriend – don't feel the same way, and the only person making the trip worthwhile is a hot local, who has a way of showing up when Jessica needs him most … and least.

The holiday high jinks continue in Sleigh Bells and Second Chances, when Jessica's best friend makes her own way across the pond! Christina Lake does not want to be away at Christmas, but she has an intern job as publicist for London's hottest band at their last-minute concert on Christmas Eve … even though she had a fling with Cary, the band's lead singer, that never officially ended. Now forced to reconnect, Christina is starting to think that maybe London is exactly where she's supposed to be to get the perfect New Year's kiss – at least until she finds out that he's been lying the whole time. Can Cary find a way to prove himself before the clock strikes twelve? Or will the New Year ring in a new romance?

Lyla Payne wraps up two perfect holiday novellas, ties them with a ribbon of romance, and tops them with a light dusting of snow. Perfect to curl up with under the tree. Just add hot cocoa!
Find it: Goodreads | Amazon | B&N | Indiebound | iBooks | The Book Depository
About the Author:
Lyla Payne is the USA Today bestselling author of the Whitman University series, the Lowcountry Ghost books, and the holiday novella Mistletoe and Mr. Right. She graduated from Texas Christian University with a degree in film but no desire to tackle Hollywood, and made it through three quarters of an M.A. in ancient history before writing took over. She lives in the Midwest with her two dogs, two cats, and the characters in her head. Find her online at lylapayne.com and on Twitter: @Lyla_Payne.
Giveaway! 
Follow the Tour:
12/1: Swoony Boys Podcast – Q&A
12/2: Krista's Dust Jacket – Review
12/3: Lovin Los Libros – Review
12/4: Fiction Fare – Review
12/6: What Sarah Read – Guest Post
12/7: The Reading Date – Top 10 Holiday Movie Romances – Yay! You're here.
12/8: Emily Reads Everything – Review
12/9: Mundie Moms – 12 Gifts from Mr. Right
12/10: Book Scents – Review
12/11: Stuck in Books – Top 10
12/12: Oops! I Read A Book Again – Review
12/13: Paperback Princess – Top 10
12/14: Resch Reads & Reviews – Review
Related Posts