Top Ten Tuesday is hosted by The Broke and the Bookish and features a new top ten list each week. This week is a top-ten-freebie week so I've decided to write about some favorite contemporary book themes.
Maybe it's because summer is approaching but all I want to read lately is contemporary, and luckily there are a lot of interesting titles on the horizon. For this list I'm focusing on books I've already read though it was tempting to list out all the ones I'm looking forward to. This list turned out to be a much more daunting undertaking than I'd thought actually – mainly because there are so many themes to choose from – enough to add a part two sometime!
Listed in no particular order, here are my top 10 contemporary YA books by theme:
1. Road Trip – Since I just finished In Honor by Jessi Kirby, it's a road trip book that's fresh in my memory. It has great characters and is about family, grieving, and love, with a new adult vibe. And another favorite road trip book that is my go-to recommendation is Amy & Roger's Epic Detour. I don't know what it is about road trip books – but I love 'em.
2. New Adult – The New Adult category features older YA characters, those that are college age. Would love to see more of these types of books, and one I really liked is Flat-Out Love by Jessica Park. The quirky characters, romance, family drama, and unforgettable dialogue make this one a stand out.
3. Novels in Verse – The first book that sold me on verse novels is The Day Before by Lisa Schroeder. The story takes place over 24 hours and involves two people who meet the day before something big happens in each of their lives. It is gorgeously written and made me a believer in verse novels! I want to read all of Schroeder's books now.
4. Music – So many choices here, and in fact I've already done a top 10 music book list. But Zero by Tom Leveen is one I read recently that centers around music as well as art, and is a good coming of age/ new adult type book. It features a very crush-worthy love interest too.
5. Humor – Sometimes you just want to laugh, and I thought Freshman Year & Other Unnatural Disasters by Meredith Zeitlin was very funny. If you like embarrassing moments like high school play mishaps or funny school photos give this one a try.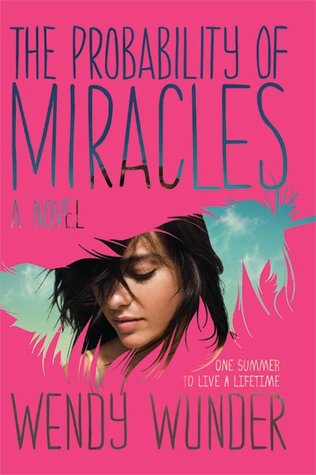 6. Illness – Though books dealing with sickness and terminal illness sound depressing, many times I've found these types of books very uplifting and positive. The Fault in Our Stars by John Green would fit the bill, but one less popular choice that I also fell for is The Probability of Miracles by Wendy Wunder. It is a touching, magical story with funny moments and romance.
7. PTSD – There are two books about PTSD coming out in June, and both deal with PTSD. One book is Miracle by Elizabeth Scott, an author who could have had her own dedicated book theme post. Miracle is an intense and satisfying read about a plane crash survivor. And another book about PTSD that I just started reading is Something Like Normal by Trish Doller.
8. Romance  – One of the best at writing romance is Stephanie Perkins, and from the Paris setting to the swoon worthy love interest, Anna and the French Kiss is not to be missed.
9. Love Triangle – The Summer trilogy by Jenny Han features one of my favorite love triangles, and it's the story of a girl torn between two brothers. Try not to let the main characters name (Belly) put you off though.
10. Art – The last book on the list is one of my favorite contemporary books of all time, and that is Graffiti Moon by Cath Crowley. It's another Older YA/New Adult type book; it takes place over 24 hours and features the arts in the story. Glass blowing, poetry, and graffiti art all add a lovely creative element to this breathtaking read.

What is your favorite contemporary book? I would love to know!

Related Posts