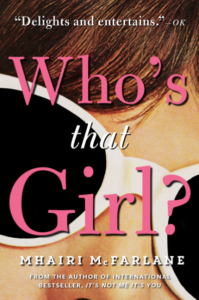 Who's That Girl?
by
Mhairi McFarlane
Published by
Harper
on September 6th 2016
Genres:
Fiction
,
Romance
,
Romantic Comedy
Pages:
544
Format:
ARC
Source:
Publisher
Goodreads
A laugh-out-loud romance from the author of the bestselling YOU HAD ME AT HELLO

When Edie is caught in a compromising position at her colleagues' wedding, all the blame falls on her – turns out that personal popularity in the office is not that different from your schooldays. Shamed online and ostracised by everyone she knows, Edie's forced to take an extended sabbatical – ghostwriting an autobiography for hot new acting talent, Elliot Owen. Easy, right?

Wrong. Banished back to her home town of Nottingham, Edie is not only dealing with a man who probably hasn't heard the word 'no' in a decade, but also suffering an excruciating regression to her teenage years as she moves back in with her widowed father and judgy, layabout sister.

When the world is asking who you are, it's hard not to question yourself. Who's that girl? Edie is ready to find out.
In Who's That Girl, Edie becomes a social pariah after an inappropriate kiss at a wedding. (She kisses the groom!) She flees town to lay low with family until the gossip dies down, passing the time by ghostwriting a book for a hot actor. Can she write her own happy ending in the process? Who is that girl?
I've been reading a lot of thrillers lately so it was fun to take a romantic comedy break. This is such a fun, quirky, charming read. My heart went out to Edie and the predicament she found herself in. She's funny, awkward and relatable and I rooted for her to find her way. There is a little bit of Bridget Jones in Edie, so this book is perfectly timed to pair with the latest Bridget Jones movie.
This witty book has a good mix of rom-com and deeper issues such as family drama, frenemies, and the pitfalls of social media. At over 500 pages this rom-com is on the long side but the story moves swiftly, and it kept me up late reading.
This is the first book I've read by Mhairi McFarlane, and I'm excited that I have three more books of hers to discover!
Who's That Girl is on sale now.
Find it:
HarperCollins | Goodreads | Amazon | Barnes & Noble | IndieBound
About the Author:
Mhairi was born in Scotland in 1976 and has been explaining how to pronounce her name ever since. (With a 'V', not an 'M'. Yes, that's us crazy Celts for you).

She is based in Nottingham where she used to be a local journalist and now she's a freelance writer and sometime-blogger, which we all know is code for messing about on Twitter.

She likes drinking wine, eating food and obtaining clothes; all the impressive hobbies. Her best anecdotes involve dislocating her elbow tripping over a briefcase and a very bad flight to New York. She lives with a man and a cat.

Find out more about Mhairi at her website. You can also follow her on Twitter: @MhairiMcF.
Giveaway
Enter to win a copy of Who's That Girl!
Prizing provided by Harper
Giveaway open to US  residents
Fill out the Rafflecopter to enter:
Follow along with the Who's That Girl blog tour:
Related Posts