Top Ten Tuesday is hosted by The Broke and the Bookish and features a new top ten list each week. This week's topic is Top Ten Favorite Covers. This is a fun topic for me because I like shopping by cover. I pulled up the cover view on Goodreads and just jotted down the 2012 covers that stood out to me. Since many of the covers that caught my eye were fantasy books I went with that theme.

Listed in no particular order, here are 10 eye catching fantasy covers for 2012:
1. Shadow and Bone  by Leigh Bardugo – June 5th, Henry Holt & Co, YA Fantasy. Love the grey, black and white with the pop of red, the font and the swirls. It's simple but stands out from the competition.
2. For Darkness Shows the Stars by Diana Peterfreund – June 12th, Balzer & Bray, Dystopia/ retelling of Persuasion. So pretty! Love the font, the night sky with the splash of pink, and the model's pose.
3. The Crown of Embers by Rae Carson – 2012, Greenwillow Books, sequel to Girl of Fire and Thorns. I like that this cover matches nicely with the first book in the series, and it's striking with the lightning and textured border. Love blue and purple together too.
4. Monstrous Beauty by Elizabeth Fama – September 4th, Farrar, Straus and Giroux, Mermaids. I think the cover describes the title very well. The darkness of the rocks and mermaid body contrasts nicely with the title and blonde hair of the model.
5. Defiance by C.J. Redwine –  August 28th, Balzer & Bray, Fantasy. This cover is so gorgeous! The pose screams defiance and I like that you can see the building structure through the sheer fabric of the model's dress.
6. Girl of Nightmares by Kendare Blake – August 7th, Tor Teen, sequel to Anna Dressed in Blood. This cover is so striking and I like how the red blood splotches from Anna has taken over the sequel's cover entirely. Stunning!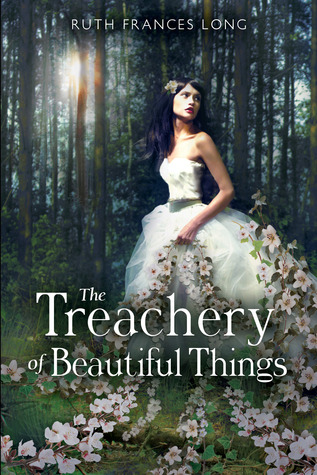 7. The Treachery of Beautiful Things by Ruth Frances Long- August 16th, Dial Books, Fairies. Pretty with the flowers and the light coming through the trees.
8. Something Strange and Deadly by Susan Dennard – July 24th, HarperTeen, Zombies. Creepy! I like the black dress, the tree, and the subtle clockwork in the background.
9. Renegade by J.A. Souders – November 13th, Tor Teen, Dystopia. Beautiful and intriguing. It matches up rather well to the underwater dystopian concept.
10. Breathe by Sarah Crossan – October 2nd, Greenwillow, Dystopia. I like the color and texture, and it also looks very post-apocalyptic.
What are your favorite book covers?

Related Posts