The Movie Date is a weekly feature where we discuss movies that may appeal to YA readers. Andrew is The Reading Date's resident movie critic and this week he discusses Tomorrow, When the War Began, a 2010 film based on the YA novel of the same name by John Marsden.
After a camping trip in the wilderness, a resourceful Australian teen and her friends discover that their town has been invaded and their loved ones taken prisoner.
When her best friend Corrie tells sensible farm girl Ellie that she's lost her virginity, the two of them decide to celebrate with a group camping trip. They collect five friends of varying personalities and backgrounds, hop in Ellie's parents' Range Rover, and head out for Hell. Far from an inferno, this destination is an idyllic, sheltered campsite with its own lake, the perfect locale for teen hijinks. But one night the sky is filled with fighter jets, and when they return to civilization it's no longer civilized: all their families have been taken to an induction center in a stadium downtown. Fighting back would be great, but above all Ellie and her friends must avoid the frequent neighborhood patrols and simply stay alive…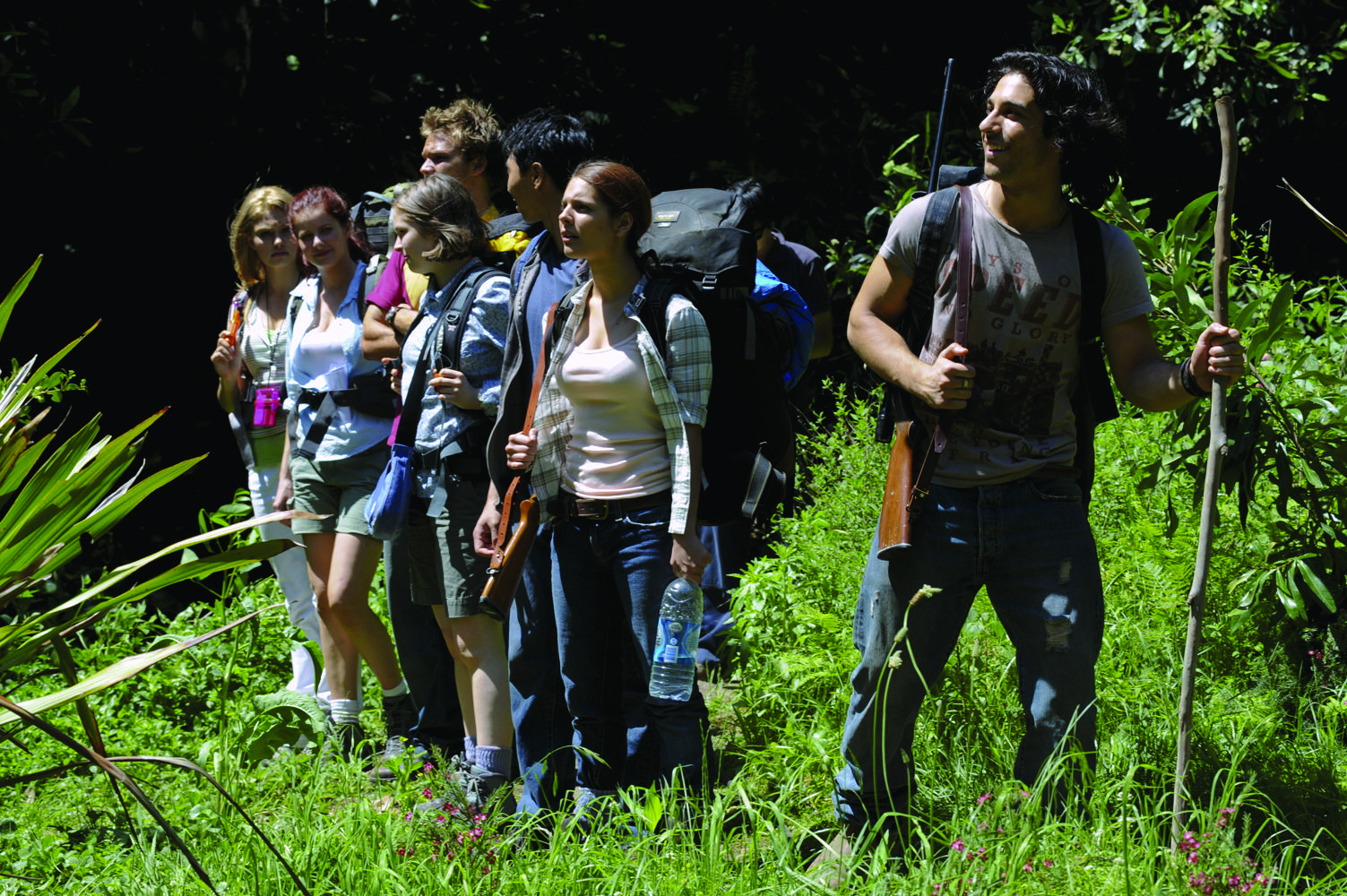 Based on an Australian YA novel from 1993 that launched its own seven-book series, this film's storyline might sound a bit like the 1984 American film Red Dawn (or its 2012 remake). Apart from the broad story arc, though, the films aren't really similar at all. Whereas Red Dawn is an action movie utilizing teens, this is more of a teen movie with a bit of action thrown in; the focus is not on fighting enemies but surviving adversity. Though there's some shooting and explosions, the focus is instead on the seven characters, joined by a helpful eighth teen partway through the film.
As in The Breakfast Club, we meet each member of the gang as a stereotype that blossoms into a fully-fledged character throughout the film: the prissy hot girl doesn't think she's pretty; the freewheeling Greek kid is both smart and responsible; the religious girl must learn to use a rifle. As you might expect, the four girls and four guys eventually form couples to some degree.
Our girl Ellie Linton (played memorably by the promising Caitlin Stasey) is a great YA heroine: brave but vulnerable, romantic but distracted, likeable but flawed (when a team member falls asleep on watch, she overreacts and threatens his life). After blowing up a half-dozen enemy soldiers, she's horrified to see that one victim is a young woman about her age. "How many people is it okay to kill in order to keep me alive?" she wonders, asking a crucial ethical question seldom heard in action films.
We never really learn which nation (or terrorist group) is behind the invasion, and as far as we're concerned that doesn't really matter. What's important is that, for whatever reason, these kids find their own strength in the absence of adults, and they do. I found myself unusually caught up in each kid's own personal drama and enjoyed watching them grow up in a matter of days.
Amusingly, the film humbly acknowledges its own literary origins. In one scene Cassie reads the 1901 novel My Brilliant Career, made into a 1979 film, and comments that it's "better than the movie." "Books usually are," agrees Ellie. That said, I found this film strong and smart in its own right; no apologies necessary.
  Tomorrow, When the War Began is now playing on Netflix streaming. This film is rated R and runs 103minutes.
Related Posts