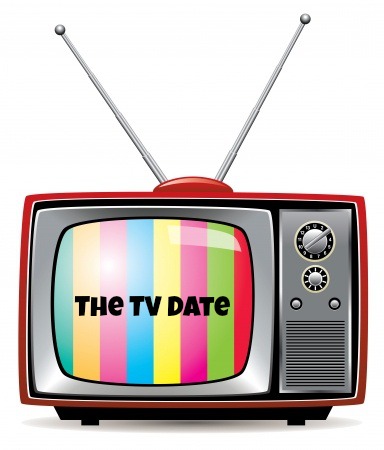 In our last look back at 2013, we are counting down the TV shows that made the biggest impression on us. First off, Andrew looks at 8 shows featuring kick-ass women that we enjoyed watching together last year. Plus, I (Lucy) get my two-cents in with two other TV faves. Take it away, Andrew:
Haven't We Met? TV Actresses, Redefined
After jotting down five great TV thrillers from 2013, I realized they all featured strong females played by actresses known for prior TV work. So in the spirit of the new year, here's to redefining yourself!
The Fall – Gillian Anderson will probably always be best known for playing circumspect and modest FBI agent Dana Sculley on The X-Files (1993-2002). Her portrayal as a confident and sexually forthright UK police detective had her chasing a very different kind of monster—a cruel Belfast serial killer who was also a devoted husband and father. (Available on Netflix Watch Instantly.)
Top of the Lake – Also adopting a convincing accent last year was Mad Men's Elisabeth Moss. She played an Australian detective returning to her rural New Zealand hometown to investigate a pregnant tween's disappearance, encountering a quirky womens'-movement commune and a family of drinking, drug-dealing roughnecks. Seeing her as a passionate yet conflicted female cop, it was easy to forget her as soft-spoken 60s ad writer Peggy Olsen. (Available on Netflix Watch Instantly.)
Hostages – Conversely, Toni Collette dropped her Australian accent for this American thriller series. Winner of an Emmy for her cable series United States of Tara, she often plays desperate and unhinged working-class moms. Here she plays a desperate and unhinged professional mom—a doctor whose family is being held hostage until she can assassinate the US President via surgery. It's hardly a stretch for Collette, but her amazing acting definitely classes up the prime-time network schedule.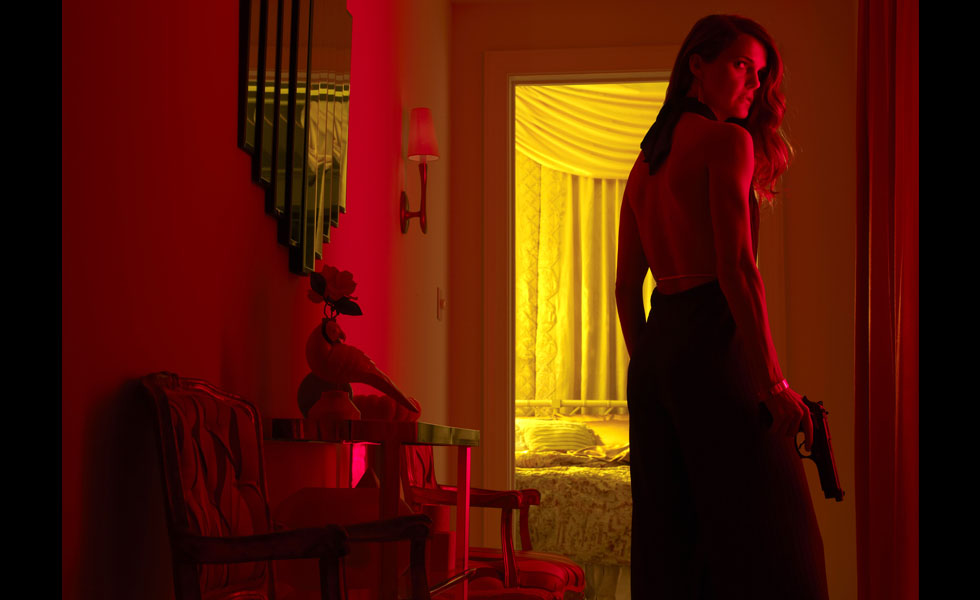 The Americans – After memorably playing a college student confronting life in the 1998-2002 series Felicity, demure and dollfaced Keri Russell promptly dropped out of view. It was a shock to see her reemerge in a much darker role in this FX series. Russell portrays a Soviet spy posing as a suburban housewife in 1980s America, one willing to use sex, violence, and wiretaps to uncover our country's deepest secrets.
Homeland –Claire Dane's incredible performance as a brilliant, bipolar CIA agent is no secret these days—she won a well-deserved Emmy for it. But the series' third season gave her even more room to shine, as her character Carrie Mathison spent nearly the entire season apart from her love interest and potential terrorist Nicholas Brody. As a teen Danes showed great promise in the cult favorite high-school series My So-Called Life (1994-95). It's thrilling to see her fulfilling that potential with her white-hot, totally committed performance in Homeland week after week.
Women on the Edge: Deadly Girl Gangs
Another fascinating development of 2013 was the emergence of shows populated with dangerous, ass-kicking females. In these shows women call the shots and pull the triggers; men are largely playthings, servants, clueless spouses, or baffled outsiders.
Orphan Black – In this tale of scientifically engineered clones uncovering the conspiracy that created them, everyone talks about actress Tatiana Maslany's incredible performance as half a dozen very different, very badass women. But guess what? It's a great show anyway, and its lightly comic thriller tone and twisty sci-fi plot helped make it one of the surprise hits of the year. And yes, Maslany's effortless mastery of her loopy women—and their accents—really is a thing to behold.
American Horror Story: Coven – Though Glee creator Ryan Murphy's creepy serial features a largely recurring cast from season to season, this third story cycle seems to be more female-focused than ever. In this dark and bloody saga of a New Orleans school for young witches, the whole cast is clearly having a blast out-spelling one another. But Jessica Lange is exceptional as the school's murderous matriarch, clinging desperately to her own fading beauty. Angela Bassett's also chilling as a vengeful voodoo queen.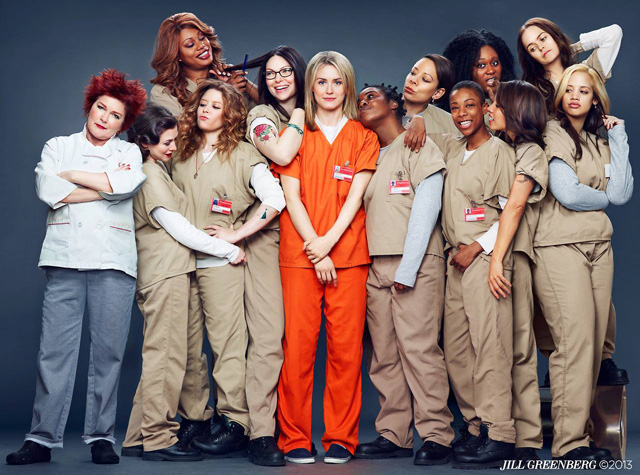 Orange is the New Black – This breakout Netflix drama about women behind bars should appeal to anyone fond of tense, witty dramedies and memorable characters. Piper Chapman (Taylor Schilling) is a well-off blonde caught for a drug-smuggling crime she committed a decade earlier with her former lover Alex (Laura Prepon). In prison, the two women make friends and enemies of the other inmates, whose backstories we discover through poignant flashbacks. Sure it's intense, but it's also smart, funny, and honest. Speaking of actresses redefined, Star Trek: Voyager's Kate Mulgrew is delightful (and unrecognizable) as a Russian cook who plays mother hen to the younger inmates.
Hope you're able to track down and binge-watch some of these superb female-driven series. Here's to more great women on TV in 2014!
Lucy's Two-Cents: Two shows that rocked my world:
The Mindy Project – This show is my happy place. I haven't felt this passionate about a sitcom in forever, since Friends maybe? It's like watching a romantic comedy every week, with sharp writing, a stellar cast, and many many lol moments. Favorite episodes this season: You've Got Sext and Christmas Party Sex Trap.
The Good Wife – I can't think of another show that hit its stride in season 5. The Good Wife has me riveted this season, with a big game changer that paid off big time. Hitting the Fan was probably the best, most intense episode I've seen on TV all year.
So, those are our small screen favorites. How about you? 
Related Posts