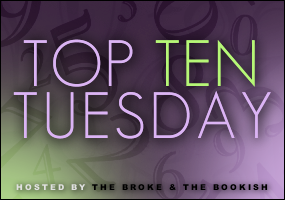 Top Ten Tuesday is an original feature from The Broke and the Bookish. This week's topic is Top Ten Books I'm Not Sure I Want To Read. According to the description, these are "books you may have bought but aren't sure if you are into it anymore, books you wanted to read but heard mixed things about, hyped books you aren't sure about — basically any book that has you going, "TO READ OR NOT TO READ?"
I like to think my tastes are kind of eclectic and that I'd be up to trying any kind of book. But, in practice my tastes lean more towards the Contemporary realm. I decided to look at a list of popular books released in 2014 and ask myself if I was ever going to read them.
I add lots of books to my Goodreads TBR with good intentions, but for whatever reason (too much hype, not in the mood, lost interest, distracted by other new shiny release, scared away by number of pages, not enough hours in the day, etc.) I can't get to them all.
Here are ten popular books that I know I won't read: (I chose from the Goodreads list of top 200 books released in 2014)
1. The One (The Selection series) by Kiera Cass – I haven't read any of these books and don't think they are for me. I'm not really into reality TV and from my understanding this series is like a dystopian version of The Bachelor. Not for me.
2. Hollow City (Miss Peregrine series) by Ransom Riggs  – I've flipped through Miss Peregrine's Home for Peculiar Children, and may very well end up seeing the Tim Burton film. But until then I don't see myself reading these books.
3. The Book of Life (All Souls trilogy) by Deborah Harkness – You know, I liked the first book in this series but I think I just lost interest. I admit I'm kind of curious about how the series ends though.
4. Mr. Mercedes by Stephen King – I have endless respect for Mr. King and his books are part of the reason I am the reader I am today. And wow, he's still such a prolific writer! But that said, I don't think this thriller is up my alley.
5. The Silkworm (Cormoran Strike series) by Robert Galbraith – No matter how famous the author, the synopsis just doesn't appeal to me. I'm generally not drawn to gory crime thrillers, though I see this series has lots of fans.
6. Red Rising by Pierce Brown – I've had this book for over a year, and feel like it's one that I SHOULD read. However, I see just as many 2-star ratings as 5-star ratings on my friend list and suspect this one won't be my cup of tea.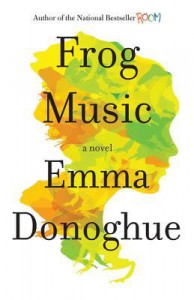 7. Frog Music by Emma Donoghue – I liked Room a lot, but am not sure Donoghue's latest is for me. It's about an unsolved 1876 murder of a frog-hunting crossdresser. Just writing that makes me curious though!
8. Skin Game (The Dresden Files) by Jim Butcher – I've heard really good things about this series about Chicago's only professional wizard, and the audiobooks in particular, but it's up to fifteen books now and I don't know that I'll make the time to start this series now.
9. The Three by Sarah Lotz  – The style of this book is compared to World War Z, and though the synopsis ("Four simultaneous plane crashes. Three child survivors. A religious fanatic who insists the three are harbingers of the apocalypse. What if he's right?") sounds intriguing I don't think I could make it through this one.
10. Various New Adult series books – I seem to have jumped ship from a few NA series including Be With Me by J. Lynn, Too Far by Abbi Glines, Consumed by Emily Snow, and Twisted by Emma Chase. All of these series are on the "popular" list but it seems like I'm either pickier in general with NA or I've just lost interest in these stories. That may be why I'm reluctant to start new NA series books in general in favor of standalone.
So, have I been too hasty dismissing some of these titles? Which do you think I should give another look? What popular books won't find room on your bookshelves?
Related Posts