The Movie Date is a weekly feature where we discuss movies that may appeal to YA readers. Andrew is The Reading Date's resident movie critic and this week he discusses two films that center on the Indian Ocean catastrophe Tsunami:  The Aftermath (2006 HBO film, South Africa) directed by Bharat Nalluri, and The Impossible (2012, directed by Juan Antonio Bayana, Spain Lo Imposible)
It seems like yesterday we all learned of the devastating Indian Ocean quake and tsunami that claimed almost a quarter of a million lives; hard to believe it's been over eight years since that tragic holiday season. Now that last year's blockbuster The Impossible is out on video, I thought I'd watch it alongside a three-hour, two-part dramatization of the events, made in 2006 by HBO and the BBC. Interestingly, both are set in the exact same tourist village of Khao Lak, Thailand, with additional scenes taking place in nearby Phuket, making them fascinating viewing alongside each other.
The HBO film Tsunami: The Aftermath follows several groups of characters as they attempt to find loved ones and restore order in the week following the catastrophe. Members of two British families (including Chiwetel Ejiofor, Children of Men) struggle to reunite and find that not all of them have survived. A Thai hotel worker surveys the damage of his fishing village and tries to offer help. A British official's ability to provide aid is stifled by his government's bureaucracy, while a capable and tireless Australian aid worker (Toni Collette) takes great joy in offering comfort and saving lives. Finally, a grubby but intrepid print journalist (Tim Roth) uncovers what seems to be a dangerous conspiracy between the Thai government and a hotel development chain. Though the several storylines run in parallel initially, their characters eventually team up to offer support and aid to one another.
Tsunami not only deftly interweaves these various plot threads but also takes time to ask big questions (why were no early warning systems in place?) and even bigger ones (why would a caring God allow this to happen?). It's a fascinating, 30,000-foot overview of this sweeping catastrophe. Though it's based on interviews with numerous participants, all characters in the film are fictitious.
The Impossible, however, is based on the experiences of a single family of survivors, the Belóns. Though the family's origin has been changed from Spanish to British, the first names are the same. And rather than a complex survey of events, this is a real eye-level view of the catastrophe. If you ever dared to wonder what it was like to be swept away by that massive tidal wave and slog through its devastation, this film will show you. Though the film changes its point of view to each of the characters in turn, we never see or learn more than they do—and thus feel the confusion they felt.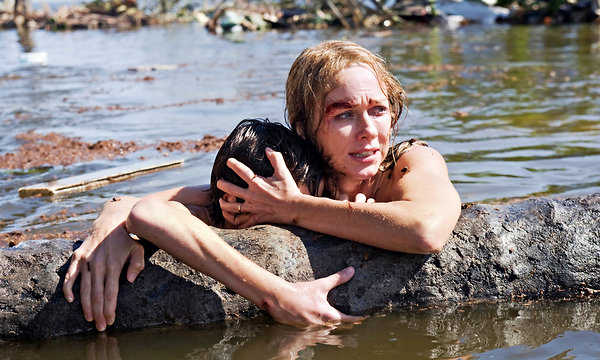 Before the wave hits, we do get a few days of holiday relaxation with the Bennetts: father Henry (Ewan MacGregor), mom Maria (Naomi Watts), 10-year-old Lucas (a remarkable Tom Holland) and his two younger brothers. When the wall of water explodes into their hotel, we follow Maria and Lucas as they're caught up in the debris-laden torrent, fighting  to connect and stay afloat. As the water subsides, we see that Maria is badly wounded, and Lucas must accept the responsibility of helping her find aid. Meanwhile, Henry is back at the hotel with his two other sons; all of them have miraculously managed to survive. But to find the others, Henry sends his boys off to a refugee camp and sets out on an agonizing personal trek. The film ends on a satisfying and positive note while respectfully acknowledging the many souls who were lost or are still suffering.
Naomi Watts was chosen by María Belón to play her in The Impossible, and handles the generally unflattering demands of the part admirably. But Toni Collette's performance in Tsunami: The Aftermath is quite a revelation, too, all confidence and strength, nothing like the loopy mom-type roles we might associate her with.
In both films (but especially in The Impossible), what shines through is the community of kindness and support that emerged in the wake of the tragedy. Again and again strangers make personal sacrifices to help our characters on their way. But the lack of information regarding both the dead and the living is a constant source of frustration for all concerned—though they have phones and Internet access, they still must resort to bulletin-board sheets listing missing and found parties. The two films are very different in scope, but both are excellent ways to remember the victims of that tragic December day and salute the courage of those who survived.
Impossible and Tsunami: The Aftermath are now available on home video.
Related Posts