The Movie Date is a weekly feature where we discuss movies that may appeal to the YA audience. Andrew is The Reading Date's resident movie critic and this week he discusses CLOUDS OF SILS MARIA, directed by Olivier Assayas.

A middle-aged actress is asked to revisit the stage play that launched her career 20 years earlier—but this time she must play the story's older woman rather than the younger one. 
On paper it may not sound like much—another older vs. younger woman tale—yet the film is fraught with mystery, magic, and suspense. Director Olivier Assayas (Carlos) shoots and directs this straightforward drama like a thriller, which adds plenty of physical energy to this otherwise cerebral tale.
The film opens with us hurtling by train through the Swiss countryside. We meet hardworking personal assistant Valentine (Kristen Stewart) juggling phones and phone calls on behalf of her boss and friend, likeable actress Maria (Juliette Binoche). Maria's headed to Zurich to accept an award on behalf of playwright Melchior, author of the play (and later film) that was the star's ingénue success. Two events throw Maria's life into turmoil: Melchior suddenly passes away, which turns the ceremony into a memorial, and a rising director offers Maria a part in a revival of the play. The catch: this time she would play the older woman in the tale's female romance, with Maria's old role going to a talented if troublesome young Hollywood star (Chloë Grace Moretz). An abhorrent situation, but Maria really wants to work. What to do?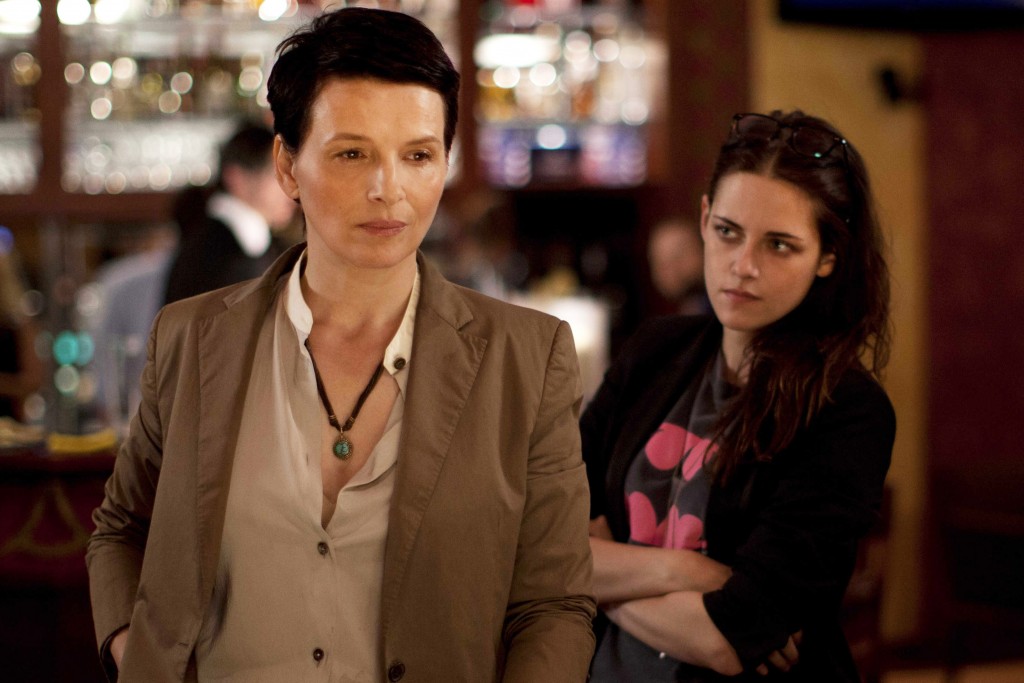 The long middle of the film finds Maria and Valentine pondering the issue while camping out in Melchior's gorgeous cottage in a lush valley of the Swiss Alps, which they use as a base for hiking, drinking, laughing, and discussing the play. When Maria thinks she might take the part, Valentine helps her run lines. But since the parts in the play echo the two women's roles, we're often pleasantly confused as to whether we're hearing dialogue from real life or Melchior's manuscript.
The story's third act throws plenty of twists, turns, and mysteries our way, leading to a conclusion that resolves the story enough for you to feel satisfied, yet intrigued enough to want to discuss it for hours (what the hell happened?). Still, the core of this film is the fascinating, layered, and always amusing dialogue between the two leads. The ever-excellent Binoche shines as the irritable yet devoted aging actress.
But the surprise here is the depth and naturalness offered by Stewart, who shone in the somewhat low-key Twilight but was somewhat lost (imho) in its increasingly spectacular sequels. When Maria asks on what planet an item of celebrity gossip would be important, Valentine replies, "This planet has a name, it's called the real world." Through Valentine, Stewart's honesty and authenticity anchor this otherwise cloudy tale in everyday life. The turn won her a French César Award for Best Supporting Actress, a rarity for a non-French performer.
I was pleased that the story refused to take some easy and expected plot turns. For a story about gracefully growing old, its presentation is bracingly new.

CLOUDS OF SILS MARIA is now playing in select theaters. Check out the viewing schedule to see when it's playing at a theater near you. This film is Rated R and runs 124 minutes.
Related Posts