Last Kiss of Summer is the first book in Marina Adair's Destiny Bay series and the perfect way to savor the last few weeks of summer. This foodie romance is lots of fun!  Kennedy's last relationship ended badly and now she's starting over again, and finally living her dream to own her own bakery. Sweetie Pies is famous for its scrumptious apple treats. But there is one person not rooting for Kennedy's success and that is Luke. Luke wants the apples and land that Kennedy controls for himself and his hard cider business. He turns on the charm to see if he can convince her to see things his way. Can they work together to achieve their dreams? A cider and a slice of pie sounds good to me!
I love to cook so I'm naturally drawn to foodie fiction. And as a special treat, author Marina Adair shares some of her foodie favorites!
Top 5 Favorite Foodie Fiction: Books / Movies
by Marina Adair
SPANGLISH
SWEET SPOT by Susan Mallery
THE SWEETEST THING by Jill Shalvis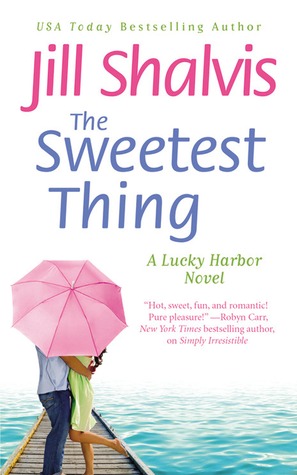 TORTILLA SOUP
MYSTIC PIZZA
Thanks for the foodie recs, Marina! Tortilla Soup looks so cute!
Get your foodie fiction fix with Last Kiss of Summer! And don't forget to enter to win a copy below.
Last Kiss of Summer is on sale now
He's one bad apple she just can't resist…

Kennedy Sinclair never dreamed she'd own a pie shop and an orchard in a small town like Destiny Bay. But nestled between the mountains and the Pacific Ocean, it's the perfect place to cross something off her "Life's short so eat the icing first" list and start her life over from scratch. Her shop, Sweetie Pies, is famous for its hot, flaky apple turnovers and sinfully delicious deep dish pie. For Kennedy though, nothing is more enticing than the tall, strapping slice of temptation who keeps coming back for more.

Luke Callahan is determined to make his hard cider business a success. With his beloved father's cider recipe and the opportunity of a lifetime in his grasp, he'll stop at nothing to get this deal done. There's just one catch: he needs Kennedy's apples. At first, he thinks it'll be as easy as pie to charm those apples right off her trees. But Kennedy isn't falling for his tender charms or his wicked ways. When the negotiations start heating up, so do the feelings they have for each other. And it takes just one kiss to seal the deal…
Find it: Goodreads | Amazon | Barnes & Noble | Books-A-Million | Google Play | iBooks | IndieBound | Kobo
About the Author: 
Marina Adair is a #1 National bestselling author of romance novels and holds a Master of Fine arts in creative writing. Along with the Sugar, Georgia series, she is also the author the St. Helena Vineyard series, and her new Heroes of St Helena series. She currently lives with her husband, daughter, and two neurotic cats in Northern California.

As a writer, Marina is devoted to giving her readers contemporary romance where the towns are small, the personalities large, and the romance explosive.

Connect: Website | Facebook | Twitter | Pinterest | Goodreads
Giveaway
10 copies of Last Kiss of Summer are up for grabs, courtesy of Forever Romance! Fill out the Rafflecopter to enter:
Related Posts